Unpacking and responding to the mistrust that confront aid workers on the front line of Ebola. Listening and understanding are the first steps to building trust among people wary after years of war.
Ebola is real; it's the result of witchcraft and the health workers

can do nothing

to stop it.
It's the health workers who

are infecting us

with Ebola.
Burial teams

steal organs

from the dead so they can sell them.
These are just some of the reactions that health workers and volunteers have been confronted with as they go into communities to raise awareness about prevention techniques, provide vaccinations or safely bury those who have fallen victim to the disease.
Such beliefs may seem outrageous and irrational at first. After all, health workers and volunteers are risking their lives to save others from a hellish disease. Media reports and even messaging from humanitarian organizations, meanwhile, sometimes back up the idea that such high levels of distrust of humanitarian motives is rooted simply in ignorance of modern science, or based on irrational fears and superstition.
But even those who are risking their lives on the front lines of Ebola say people should not be so swift to judgement. It's important to understand that often even the most sensational rumors may have some basis in fact. You just have to start imagining what the crisis looks like when standing in their shoes.
Consider the following: While thousands have died in North Kivu as a result of armed violence over the last decade, there have only been a handful of organizations helping affected people in the region deal with that reality. Suddenly, when the Ebola outbreak began, many more organizations began arriving, equipped with land rovers, high-tech gear and strange protective clothing.
"Communities were seeing that suddenly there was all this international attention for Ebola, but not for the massacres, which they saw as much deadlier than the disease," notes Eva Erlach, a community engagement officer for the IFRC.
On top of that, Ebola and the conflict are not the only problems people here are dealing with. "It's important to remember that more people are dying in DRC of malaria and in child birth than from Ebola," notes Gwendolen Eamer, senior officer for public health in emergencies. "It's the second biggest Ebola outbreak in history, but objectively it's taken far fewer lives than many other causes of death".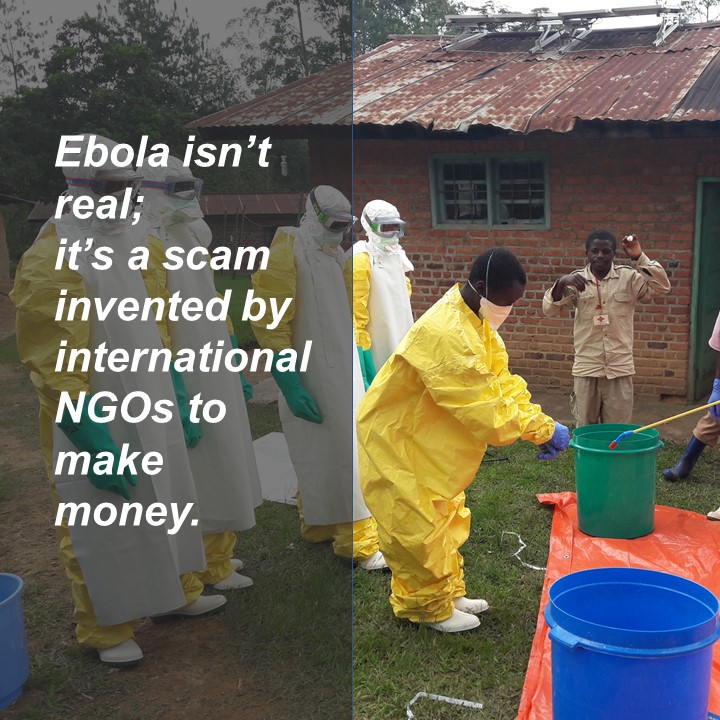 With this in mind, consider the notion that the crisis is manufactured in order for humanitarians to make money. "I don't feel that is accurate," says Eamer. "But it is true that when crises like these hit, humanitarians raise money and employ a lot of people."
While some of the rumours (Ebola is not real, for example) may be plainly false, they can take on an air of plausibility because another part of the rumor (humanitarians make money on disease) have some ring of truth.
Consider also the belief that humanitarians or health workers are the ones spreading the disease.
While there is no evidence to suggest this has ever been done intentionally, there have been cases of people getting infected with Ebola after visiting a health clinic for another reason.
In the absence of media sources that are trusted by the general population, along with a breakdown of many social structures due to conflict, such half-truths have fertile ground on which to grow into full-blown rumors. In this environment, people tend to rely on what they hear from people they do trust: family members, neighbors or local leaders.
To Eamer, the important lesson is that to be effective in combatting Ebola, aid workers shouldn't get offended or become defensive. "Most issues of distrust are based in someone's reality," notes Eamer. "There is some truth or it's based on some truth. You just have to take the time to imagine yourself in their shoes."
A system for feedback
Once those perceptions are better understood, then humanitarians can address the concerns head on with targeted messaging.  This common-sense approach is nothing new. In recent years, community engagement and accountability, or CEA, has become an increasingly integral part of understanding the needs of people, from refugees in Bangladesh to migrant communities in South America.
Now the IFRC has taken this effort to a new level, introducing the first systematic mechanism for monitoring community perceptions and insights in an ongoing emergency.  In the aid world, this is sometimes referred to as 'rumour tracking'. But that terminology presupposes that community sentiment lacks legitimacy so the IFRC calls it 'the Red Cross Community Feedback System.'
For the DRC Ebola response, that system now involves some 700 volunteers who carry out direct conduct consultations (more than 130,000 have been done so far) as part of their ongoing work.
"We are going community-to-community and often door-to-door with the message that Ebola is real and Ebola kills," says Cheick Abdoulaye Camara, a community engagement officer with the IFRC in DRC. "In the process, we are getting back a lot of very useful information, such as when we are told: 'You tell us to wash our hands, but we don't have soap, we don't have basins'".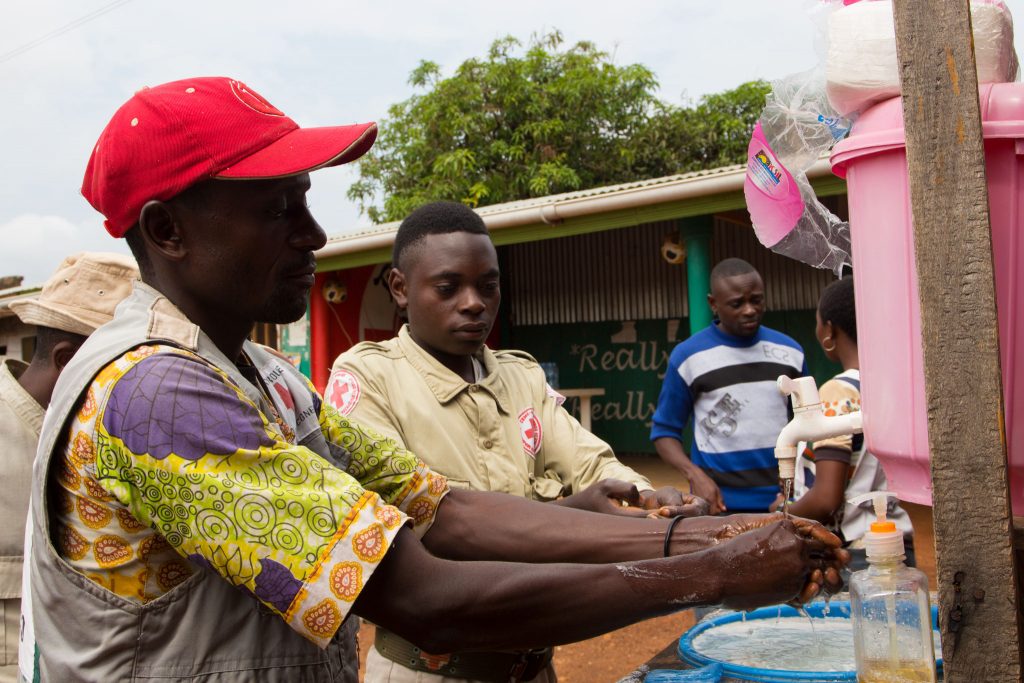 One of those "community engagement and accountability" volunteers is Deborah, who raises awareness about Ebola by going door-to-door, organizing community education sessions, speaking on local radio shows or producing street theatre performances.
Addressing the specific concerns and needs of communities is critical, she says, because with Ebola, every second counts. "The virus is really dangerous and can be misleading as its symptoms mimic those of malaria, typhoid or cholera," Deborah says. "Ebola spreads because people who're infected don't seek treatment and some even go into hiding."
Entered in a spreadsheet by Red Cross volunteers, the data is then analyzed by the US Center for Disease Control and then shared on a protected, interactive online dashboard with other actors such as MSF, Oxfam, Unicef and WHO.  "This kind of tracking of community perceptions and insights has been done before but never at this scale or consistency in terms of data," says Ombretta Baggio, senior advisor for community engagement for the IFRC.
Sometimes that data points to very practical needs — such as a need for soap or wash basins — or can address more complex issues, such as people's questions about vaccinations. Why, for example, are some people getting vaccinations but not others?  If these questions are not addressed, people may come up with their own explanations. For example: are vaccination only for people with family or political connections?
"We can answer their questions and explain the strategy of immunizing health workers first and then the concept of ring vaccination and then build trust and engagement with the treatments," says Baggio, referring to the practice of creating a 'ring' of vaccinations around the sick person by targeting first anyone who has had contact with an ill person, then those who had contact with that contact.
According to an article co-authored by Baggio, Camara and Christine Prue for the Humanitarian Practices Network, the feedback also led to some concrete changes in the way certain things are done:
Protocol for safe and dignified burials was revised to allow family members to participate in burials using protective gear.

Safe and dignified burials teams began using transparent body bags so family members could have visual confirmation of their loved one's burial while allaying rumors that body parts of the deceased were being sold.
The data also helps refine broader communications strategies, as well as prioritizing and coordinating messages. "It really impacts trust if each outside actor comes at them with different information and messages," she notes. "It also erodes trust if the material aid or the messages do not respond to peoples' needs and concerns."
The next step is ensuring that information becomes 'operationalized' — meaning the data is not just used to create new messaging but also informs the way operations are carried out. "As trust builds, it creates a positive feedback loop, because then you get even more and better info, which leads to better response and then even more trust," says Baggio.
At the same time, humanitarian organizations also need to trust the communities they want to help. "Communities often have important suggestions but we are sometimes too busy to stop and hear what they are saying," says Baggio.
Still there are shortfalls. For example, no data from the so-called 'Red Zones' — places where conflict limits access.  Still, as the Ebola saga plays out, the Red Cross Red Crescent Movement's network of grassroots volunteers and staff, along with ICRC's long-time presence in the DRC, could provide a unique value in terms of engaging, building trust and ultimately ensuring local ownership of the response (one reason the IFRC published a guide on establishing community trust feedback system last year). Says Baggio: "There is a huge role for the Red Cross in rebuilding trust".