How a young Ebola survivor and former sceptic overcame his fear and distrust to become a messenger of hope.
"I came to tell you that this illness is real and it kills," says Machozi, who just a few months earlier had contracted this lethal disease and survived.
Already dealing with the consequences of many years of armed conflict, the people of Butembo are now confronting a new enemy: an outbreak of Ebola virus disease that has claimed more than 460 lives since it began in August 2018.
Among some in Butembo, there is significant distrust of those working to combat the disease. Many people, particularly the young, think that Ebola is an invention, a fabrication.
Along with other Red Cross volunteers, Machozi has come to tell the young people gathered that there is hope of avoiding the disease if they understand it's real and they take steps to prevent its spread. "If you do not believe, we are going to die all together," he tells them.
Machozi is not alone in this effort. Every day, volunteers of the Red Cross of the DRC survey the hills that overhang the city, talking with community members in hopes of minimizing the risks that people will resist critical prevention measures. They knock on doors and organize group meetings with youth leaders and religious figures. They demonstrate hand-washing techniques or demonstrate the process for a safe and dignified burials in the hope that, should it be necessary, communities will allow burial teams to perform their difficult but critical work.
What makes Machozi's message even more powerful is that he himself was once a skeptic — that is until he had his own very close call with Ebola. "What I lived through, my situation, I do not have the right words to describe," Machozi says. "I was once among those who didn't trust, who thought this disease didn't exist."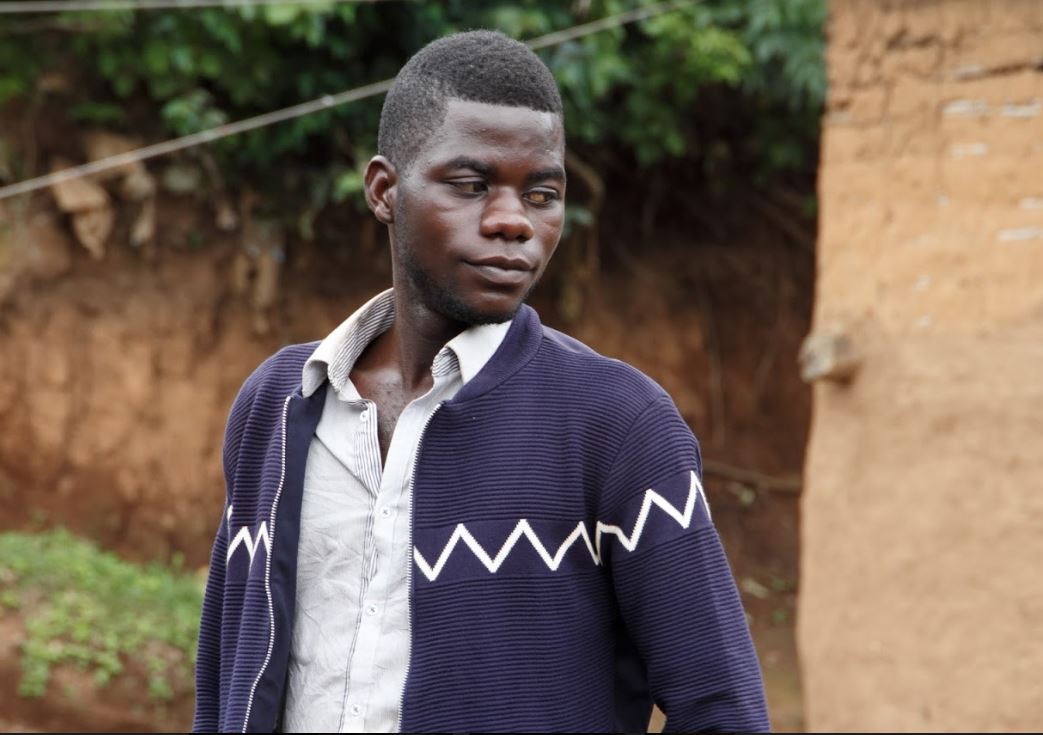 Indeed, words hardly do justice to what he endured. He contracted the virus at the beginning of September, in a small health centre in his neighborhood as he stood watch over a friend with malaria.
"A nurse there asked me for help: to transport a very sick woman by motorcycle to a more appropriate centre," he recalls.
Back then, there was very little information about Ebola in the city so neither Machozi nor the nurse understood the consequences of this request. "We didn't know anything about the virus because there had been no confirmed cases in Butembo. All that we had heard was about some deaths in Beni and Mangina, 50 kilometers from here."
Once at the hospital, it was confirmed that she had Ebola. After being taken to a transitional Ebola treatment center, she died within a few hours. Soon after, teams were mobilized to find all the people were in contact with her. They found the nurse who had first taken charge and the young carpenter who had given her a ride.
"I was in the house when the response team came to find me," Machozi recalls. "It was there that I learned of the existence of the disease. They informed me that the person I helped transport had died of Ebola."
'No one would touch me'
The health team told him he must be tested and put under surveillance at the closest Ebola treatment centre. As he was being processed at the transitional Ebola centre, Machozi realised the gravity of the situation.
"The nurses took a blood test then put me in a tent used for monitoring as we awaited the results. While waiting for the results, no one could touch me. They entered in the tent but talked to me from several meters distance."
Machozi's dread turned to panic. "I thought about the rumors I had heard in the city about how those who came to the [transitional Ebola treatment centre] died. So I fled the centre and went back to my home."
Once home, he hid in a small studio near his family's house. Several days later, he began to feel the first symptoms. He felt weaker and weaker, with intense headaches and continual vomiting. Finally, a member of a local health team discovered where he was and alerted the Ebola response team. "They arrived with an ambulance and asked me to get in," he recalled. "But I refused. I wanted to spend my final days in my own house."
Finally, his mother convinced him to go to the treatment centre, where he began counting the days he still had to live. Each day, more sick men and women enter the tent. Most of them died. As more sick people flowed in, health workers expanded the clinic.
Three days later, the medical team there succeeded in stabilizing Machozi and two nurses who had also been infected got progressively better. He left the center at the beginning of October, after which time he recovered his strength.
Now he uses all his strength to try to save others.  "We have to unite and work together to fight against Ebola," he tells the youth gathering. "Help the Red Cross and all the teams involved in this response to get the end of this epidemic. Take me as living testimony. It is possible to save the community and survive Ebola if everyone, our young people above all, engage in sensitizing our communities to the idea that Ebola is not a considered a punishment or an invented disease. If everyone is involved, we can end this disease."