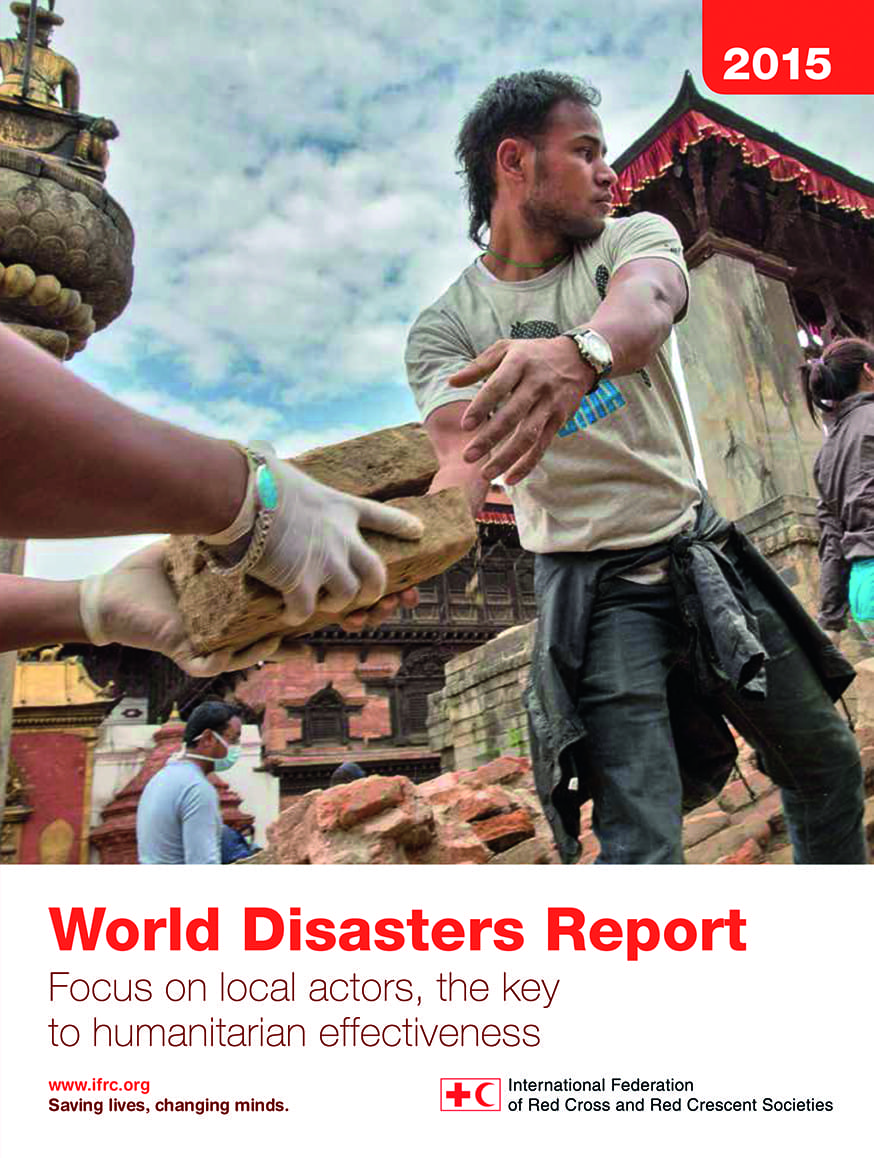 World Disasters Report 2015 (IFRC/2015)
The 23rd edition of IFRC's World Disasters Report focuses on local actors and their role at the centre of effective humanitarian action. The report addresses some problematic questions, explores current experience and examines future trends in the roles of local actors in humanitarian work.
The report also tracks humanitarian financing and questions why local organizations receive relatively little in comparison to large international organizations, examines the challenges of developing partnerships with local actors and reports on the challenges of delivering aid in insecure and inaccessible environments, among many other issues.
Available in English, with summaries in Arabic, French and Spanish
Three publications on gender and diversity (IFRC/2015)
Sensitivity to gender and diversity is an essential part of ensuring the effectiveness of our efforts to help the most vulnerable. Gender and diversity is currently being mainstreamed through the areas of disaster risk reduction, disaster management, climate change and resilience, migration and violence prevention. These three publications offer a snapshot of the IFRC approach to gender and diversity: Gender and diversity in food security and livelihoods programming; Gender and diversity for urban resilience: An analysis of South-East Asia Regional Delegation and Gender and diversity for urban resilience: An analysis.
Available in English
Health activities (ICRC/2015)
An overview of the ICRC's health programmes on the ground and the principles underpinning them. Treating and caring for the wounded and sick in armed conflict, other major violence and natural disasters has always been bound up with the organization's history, identity, values and reputation.
Available in English
Humanity in action (ICRC/2015)
Humanity in action 2014 explains the ICRC's wide-ranging activities and how it spends its money, gives an overview of the impact of ICRC action during 2014 and introduces some of the people who benefited.
Available in English, French, Italian and German
Epidemic preparedness in Indonesia and Epidemic preparedness in Myanmar (IFRC/2015)
These two separate case studies are part of the implementation and analysis of the roll-out of IFRC's epidemic control for volunteers toolkit and training manual in Myanmar and Indonesia.
Available in English
This post is also available in: French