Migrants can make important contributions to the communities in which they live. Sometimes all they need is a feeling of safety and a helping hand.
A suburb of the industrial city Turin in northern Italy, Settimo Torinese is a fitting place to explore the day-to-day challenges that migrants face in a new world.
After all, the city was largely created for people from southern and eastern Italy who came looking for employment in the 1960s and 1970s. Today, Settimo Torinese is still a place where migrants from around the world work towards their dreams. But with youth unemployment in Italy hovering around 34 per cent, taking even the first steps towards that dream is not easy. As public debate about migration becomes increasingly heated and anti-immigrant protests increase in Italy and beyond, Red Cross and Red Crescent National Societies around the world are working to ensure their safety, and that their dream of making a positive contribution does not end at the water's edge or at the border fence. The photos and stories on the following pages — from Italy, Sweden and beyond — highlight just some of the challenges migrants face and the contributions they can make if given a chance.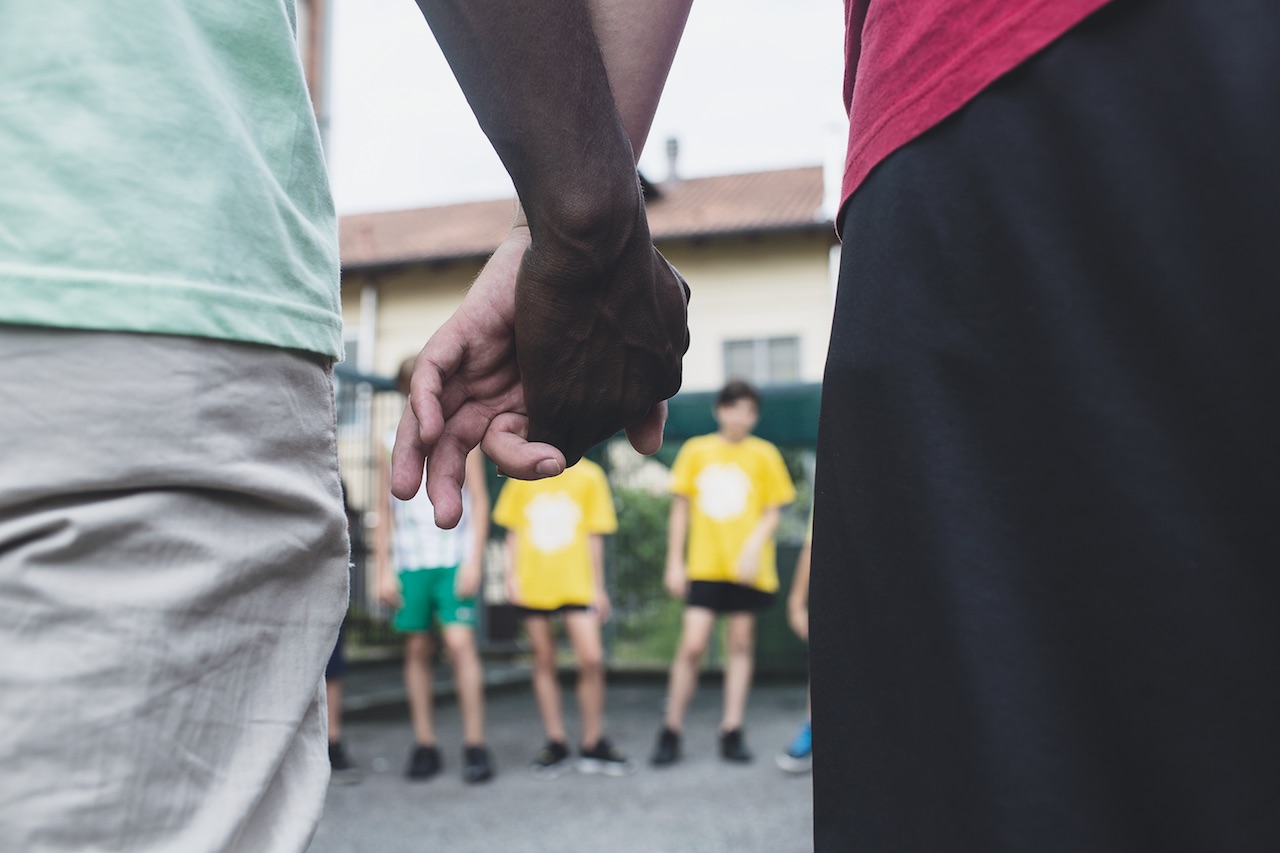 Known to his friends as Kaba, Alesani Paroqui comes from Guinea in West Africa. Now living in Settimo Torinese, he works with children in a summer camp held at the San Giuseppe Artigiano church, where migrants from the Italian Red Cross reception centre work as assistants to camp counsellors. "It's a way for the people in the community to get to know Alesani," says programme director Giuseppe Vernero. "Then he becomes not just a number, but the human being that he is, with a history and a future."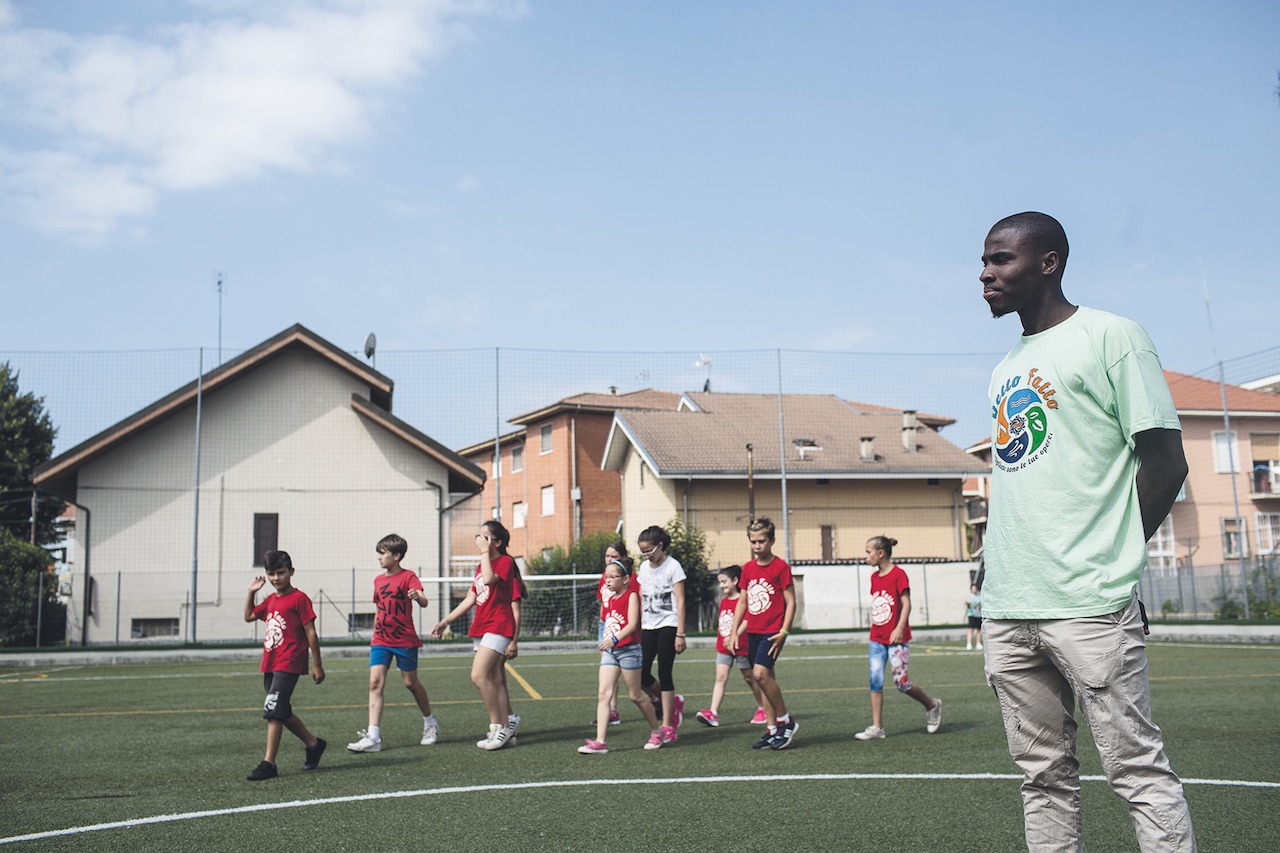 The centre hosts both temporary guests, who stay anywhere from a few days to a month, and permanent residents, who may stay up to a year or more. The permanent residents are the focus of a dynamic integration programme that aims to achieve full community acceptance and combat discrimination. As a first step, the centre offers immersion language classes, which prepare refugees for work and school.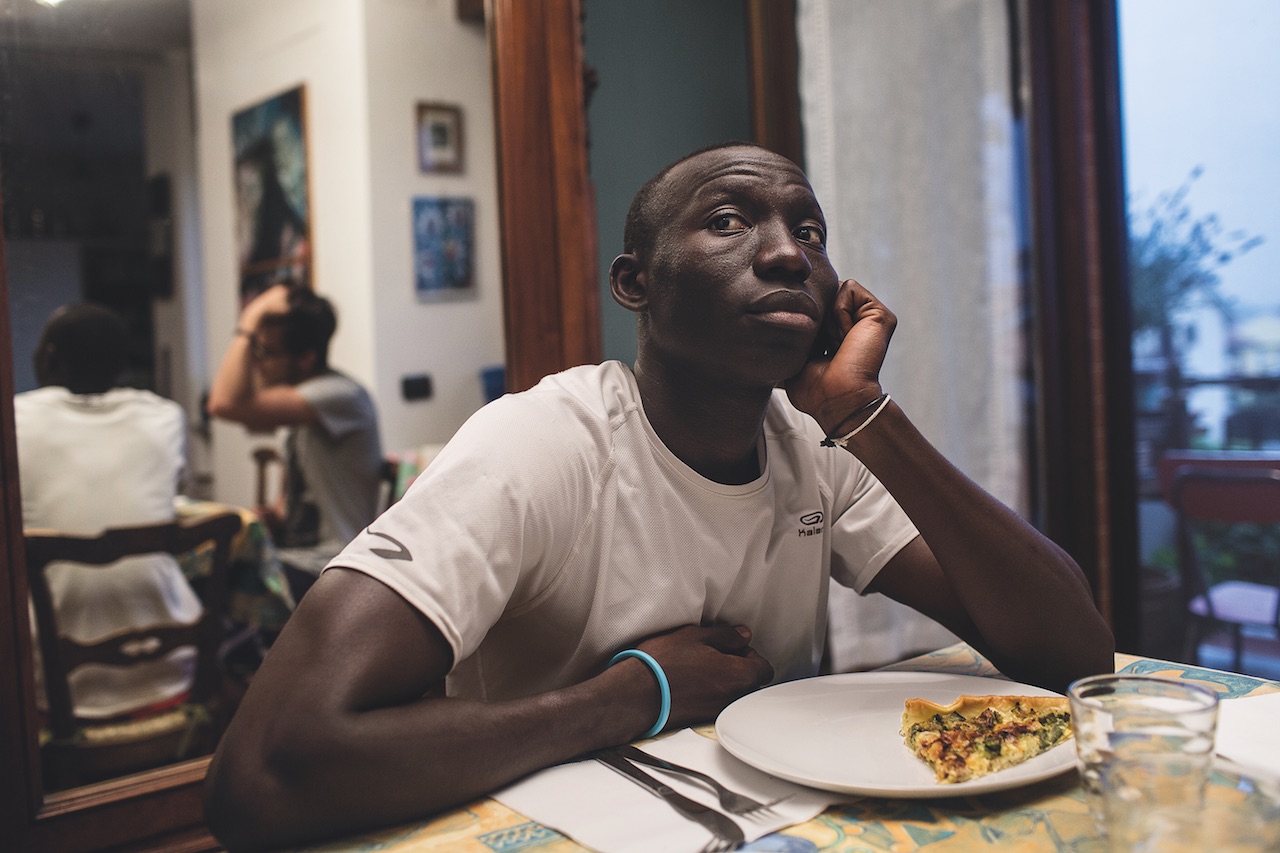 Gumbo Toray, 19, from Gambia, is one of many migrants to be invited into an Italian home as part of a programme that aims to break down the dividing lines between migrants and Italians. The Italian Red Cross provides participating families with basic food and clothing support. Here, Toray shares the dinner table of his host brother, Alberto Gigliotti, and host father, Emilio.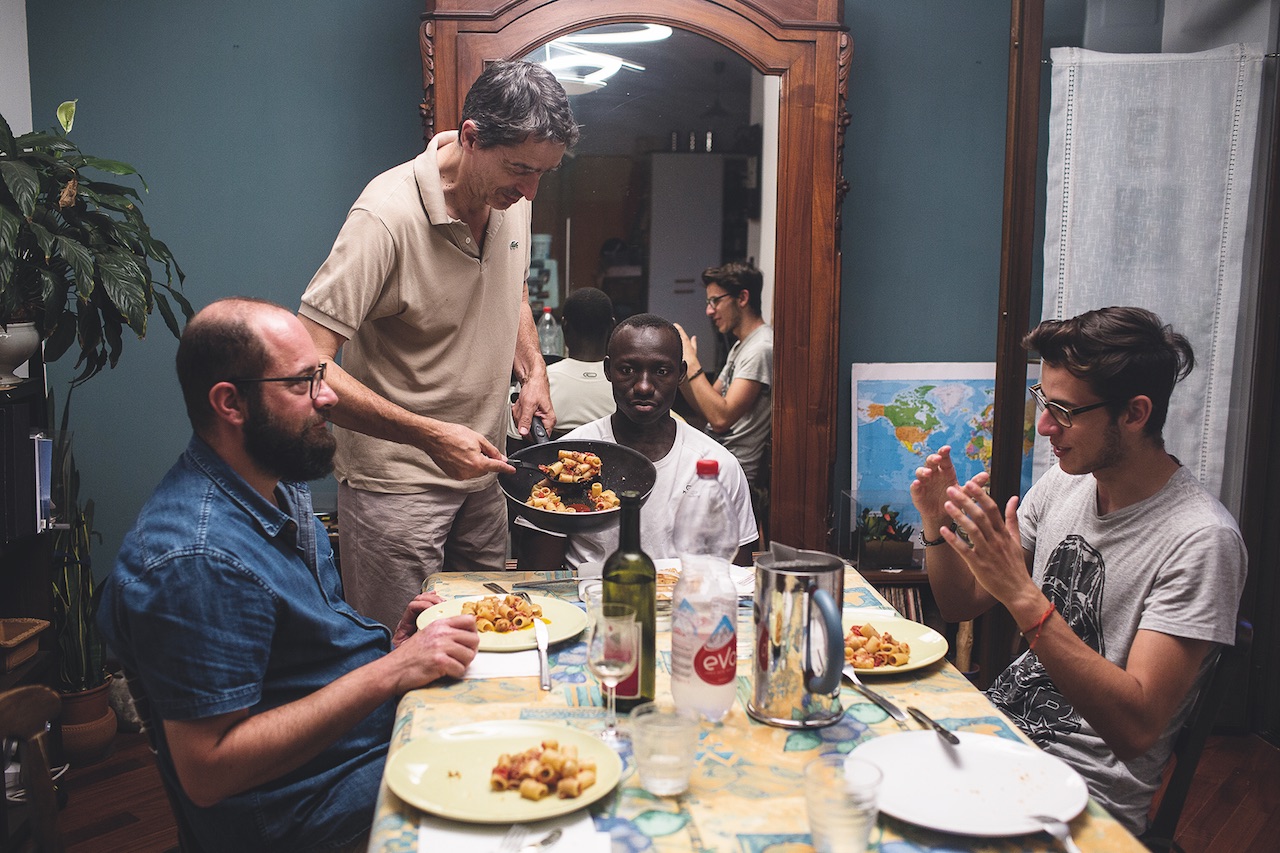 "I feel like I'm living in a real home with a real family that loves me and takes care of me," says Toray, whose father, an imam, forced him to leave Gambia aged 13 to study the Koran in Senegal. Feeling despondent there and estranged from his family, he decided to leave and managed to get to Libya before finally taking a boat to Italy.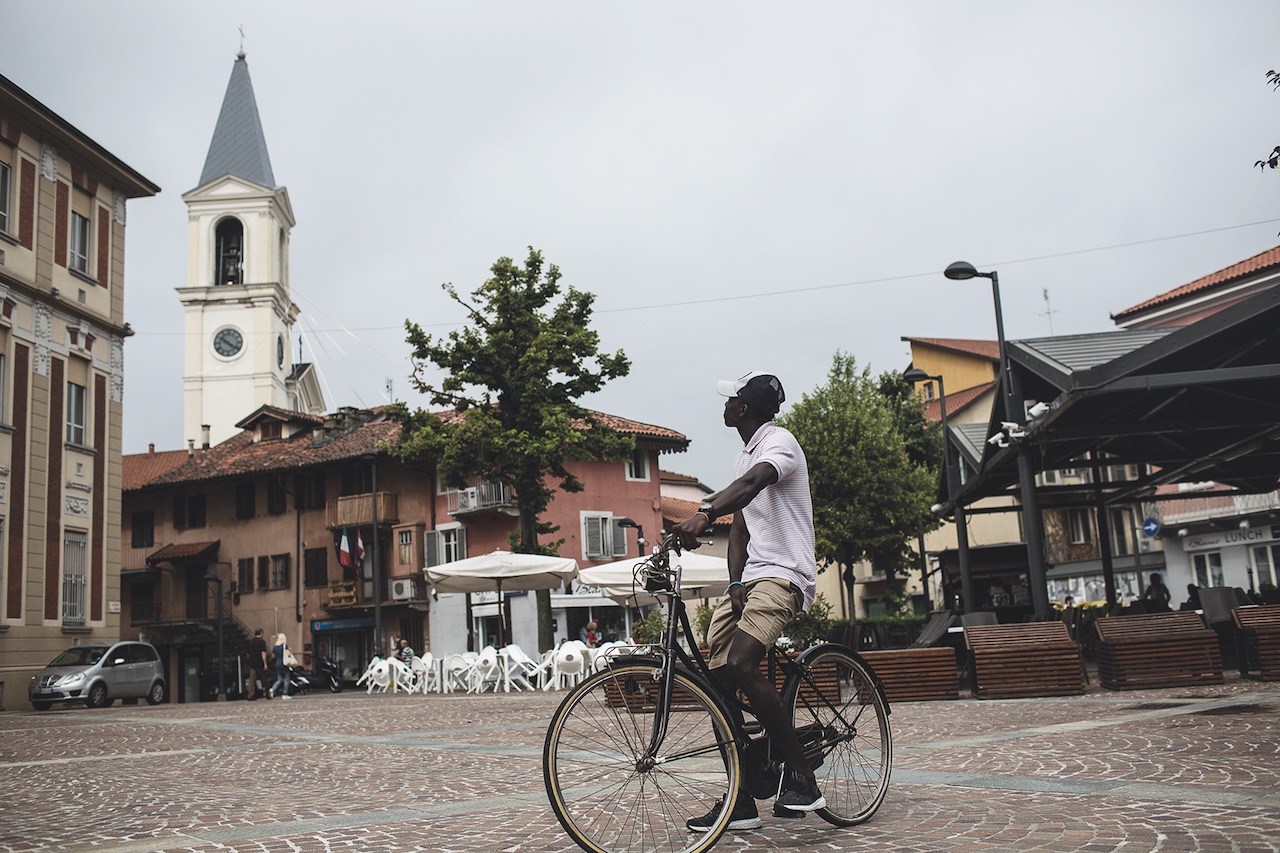 After spending a year in Florence, where he didn't learn any Italian and was not doing much besides playing football, he was quite depressed. Finding his way to the centre in Settimo Torinese, he started studying Italian and taking courses in the hospitality industry. He recently passed an exam that allows him to continue high school in the Italian school system. "Someday I will have my own place, I will have my own family," he says. "Then someday, who knows, I may go back to Gambia… yes, someday."
The small town of Hedemora, Sweden is also a fitting place to look at what happens when communities welcome migrants and refugees. Here, the idea of welcoming those in trouble is not new. Reinis Kins, shown jumping from a diving platform, came from Latvia eight years ago. Many of Kins' friends and classmates are Swedes of Finnish decent, whose parents or grandparents came here as orphans during the Second World War, when the Hedemora branch of the Swedish Red Cross was created specifically to help those fleeing the war. Since then, the branch has seen several waves of refugees over the years and activities currently revolve around helping migrants and refugees placed in Hedemora and neighbouring towns by Swedish authorities. The main goal is to facilitate integration by offering language classes with onsite childcare, organizing meetings between Swedes and foreigners, connecting Swedish and migrant families, and offering help in navigating immigration and other government offices, such as the national labour agency.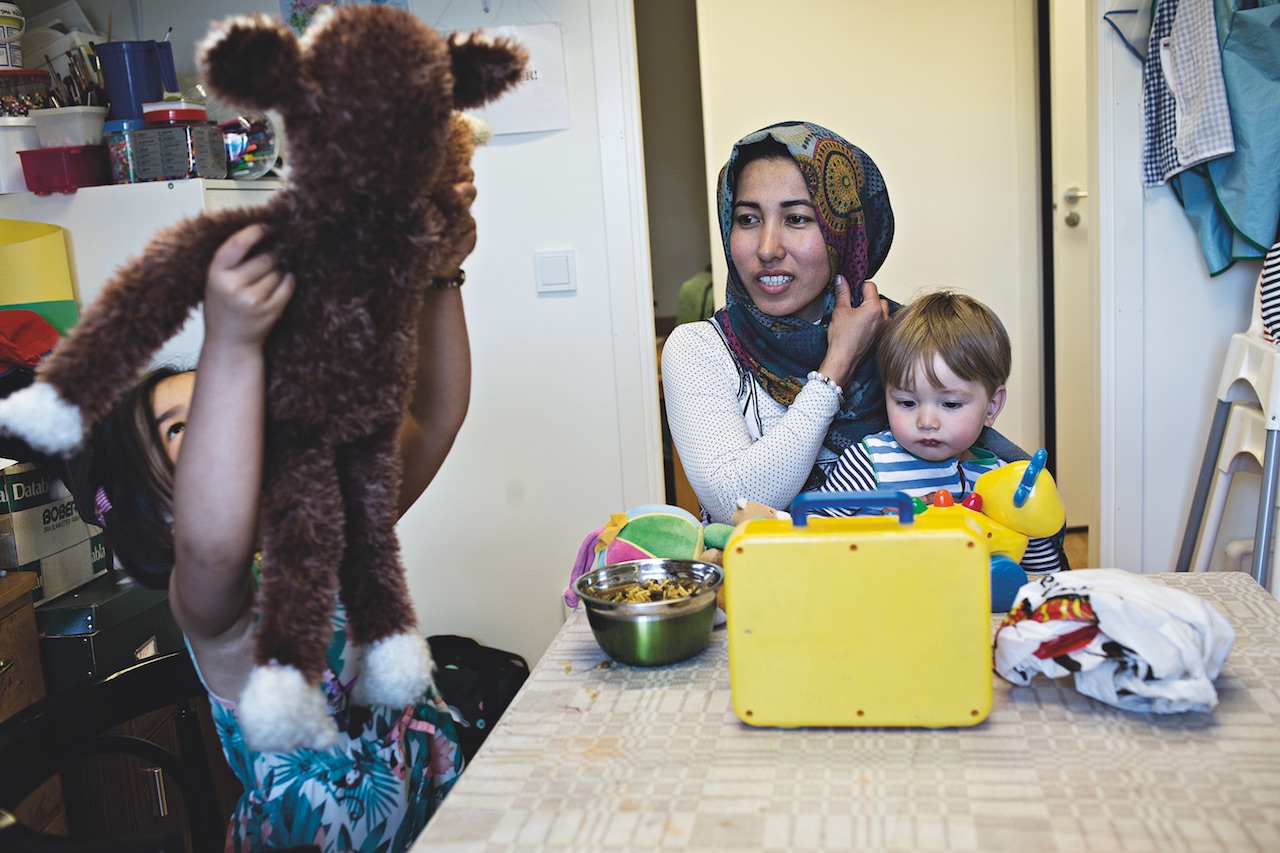 The Hedemora Red Cross branch also offers childcare for participants in their Swedish language class so that both parents have the opportunity to attend and study. Red Cross volunteer Gunborg Moran says that if they didn't offer childcare, many women would not be able to attend as they often stay at home to take care of children. This would leave the women at a severe disadvantage when integrating into society. Here, in the children's room at the Hedemora branch, Latifa Farzi from Afghanistan reunites with her children after a Swedish lesson.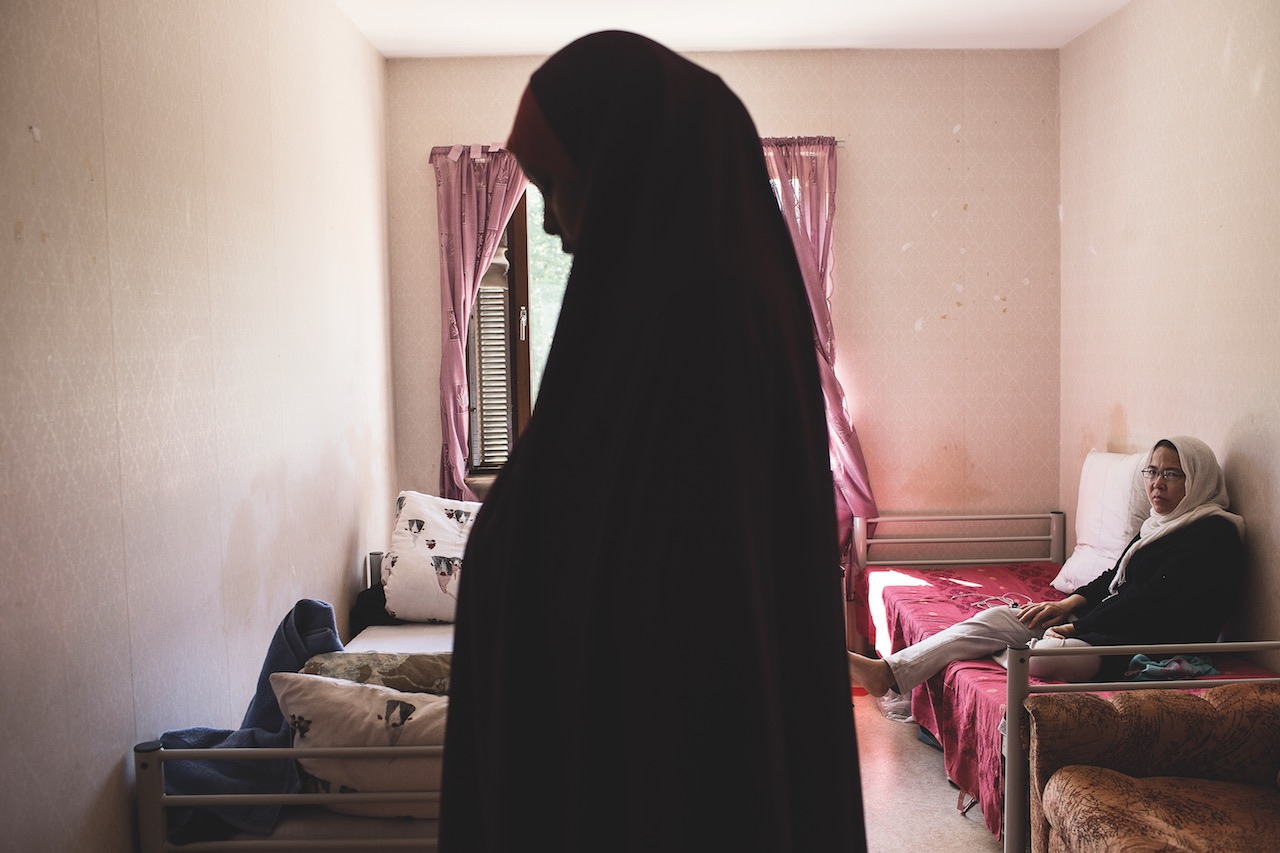 The Swedish Red Cross also tries to help local people understand more about the migrants' customs and religious practices. For migrants it can be difficult to maintain their traditions in a new environment and it is helpful if Swedes understand what their new neighbours are going through. Observing Ramadan this summer, Istar Mohammad, 26, of Somalia and Zarghona Rahimi of Afganistan, neither eat nor drink during daylight hours. During Sweden's summer, however, daylight can last up to 20 hours, meaning some Muslims might eat dinner at 22:30 then rise again at 2:00 in the morning to prepare food for the next day.
Migrants and migration experts interviewed for this story agree that Swedish people are mostly tolerant and helpful towards migrants and refugees. Still, prejudice and misunderstandings persist among some. Following a recent attack in Stockholm and youth unrest in the city of Malmo, some Swedes are beginning to feel that their society is under threat. This is why Red Cross and Red Crescent integration activities, including those that aim to liberate some of the stress and emotional pressure, are so critical. Meanwhile, Afghan asylum seeker Javad Rasoli has found his own way to calm his mind by fishing at the lake in Lanshytan, a district in the town of Hedemora.