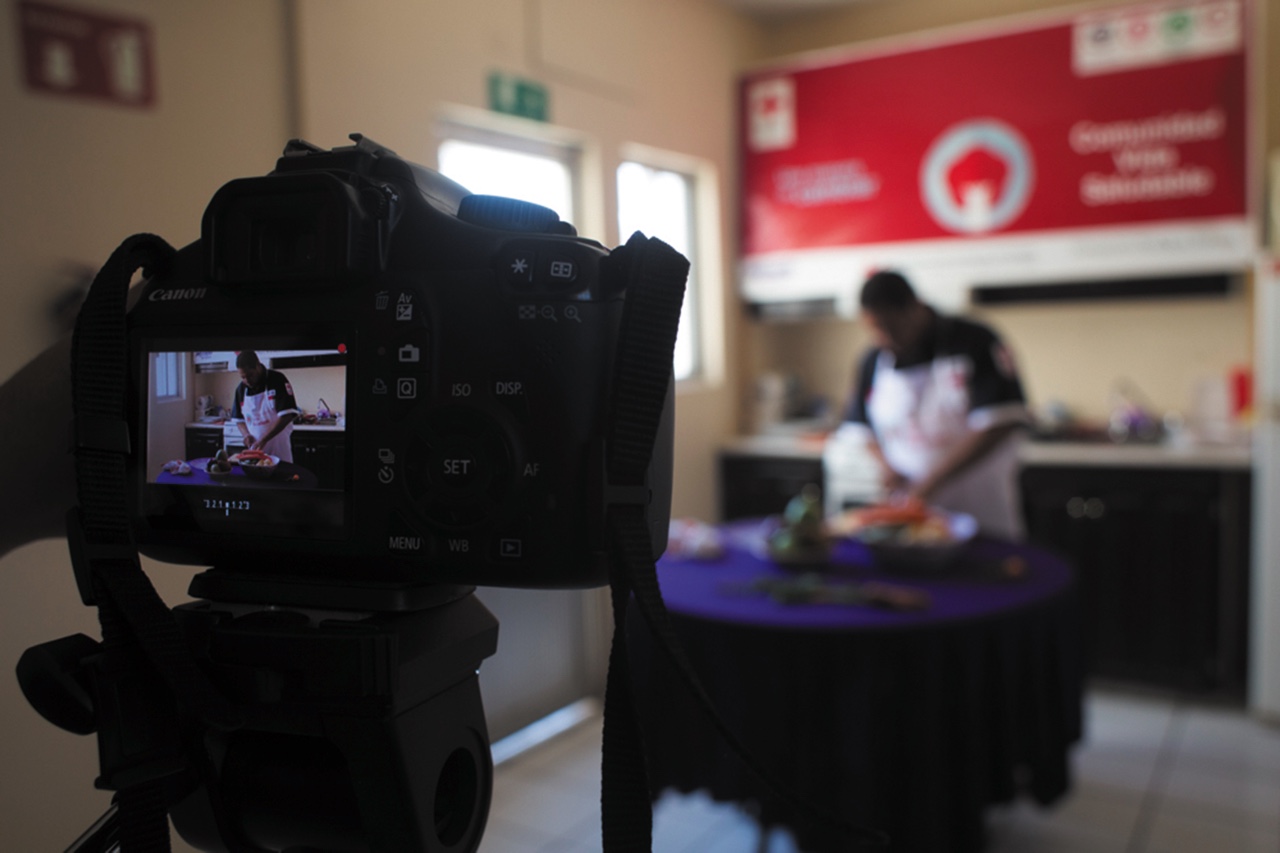 Photo: Nadia Shira Cohen/IFRC
Something's Cooking in Navojoa
One cup social media. Two spoonfuls of enthusiasm. A dash of regular exercise and a basket of garden-grown vegetables. These are just some of the ingredients that go into the 'Healthy Lifestyles' initiative — a recipe catching on in communities in Mexico and beyond.
Donning a white apron, marked with the 'Vida Saludable' (Healthy Lifestyles) logo and armed with a wooden spoon and chopping knife, Francisco Javier Barreras, the Mexican Red Cross emergency management coordinator for the city of Navojoa, cooks up a savoury, low-cost and easy-to-cook dish of chicken, vegetables and rice. All the while, a digital camera records the cook in action — peeling the carrots, chopping the zucchini (courgettes) and narrating each step. A healthy food connoisseur becoming known for his self-made, healthy cooking show, Barreras shares his recipes on social media (YouTube, Facebook and Instagram, to name a few). Many of the ingredients come from his own garden, which boasts a variety of fruits and vegetables, from mangos to pumpkin. "We need to offer ingredients that people know and like, or else they just won't eat it," he says.
The home-cooked food show is just one of Barreras's contributions to an IFRC-initiated internet website platform called Healthy Lifestyles, which helps create awareness about non-communicable diseases such as diabetes and cancer by promoting good eating habits, exercise and reduced alcohol consumption and smoking. The approach is similar to an e-learning course and it includes information ranging from how to detect the symptoms of diabetes to healthy eating tips and suggestions for community bike rides, and exercise sessions in local schools and parks. The programme has enjoyed early success in Mexico, a country with the highest obesity rate in the world, according to the World Health Organization. Problems related to obesity account for 10 per cent of the country's health budget and diabetes type 2 is the leading cause of death, followed by heart disease. In all, non-communicable diseases cause 77 per cent of the nation's deaths. "We all have family members who either have these diseases or have died from them," says Isela Velázquez, Red Cross youth coordinator for the Mexican city of Guanajuato. For Velázquez, working with young children in schools is the key. They are just now forming their habits and they can influence their parents, she says. Similarly, in Mexico City, volunteers bring games to children in marginalized communities, to help create healthy habits and to provide safe, fun social activities that could also serve as alternatives to drugs or violence.
This post is also available in: Français Español
Back to Home