Half the people we serve (and often more) are women. Gender parity is not only a question of principle, it's about results.
The principle of impartiality, one of seven Fundamental Principles that guide the actions of the International Red Cross and Red Crescent Movement, does not say anything specific about gender. But it says the Movement "endeavours to relieve the suffering of individuals, being guided solely by their needs".
The principle of unity, meanwhile, says that Red Cross and Red Crescent Societies "must be open to all".
But gender equality is not only a question of principles and basic notions of fairness and respect. For humanitarian organizations, gender parity goes to the heart of our effectiveness.
"The impact is very real at an operational level," says Gwen Eamer, senior officer for public health in emergencies. "When you are trying to reach vulnerable people, half of those people at least will be women and your access to families and to vulnerable people will be limited if you have no women on your team, at positions of leadership and at a very operational, technical, 'doing-the-thing' level."
In an age when humanitarian organizations are actively seeking to put affected people at the centre of their response, gender parity is an essential building block in effectiveness, relevance and credibility.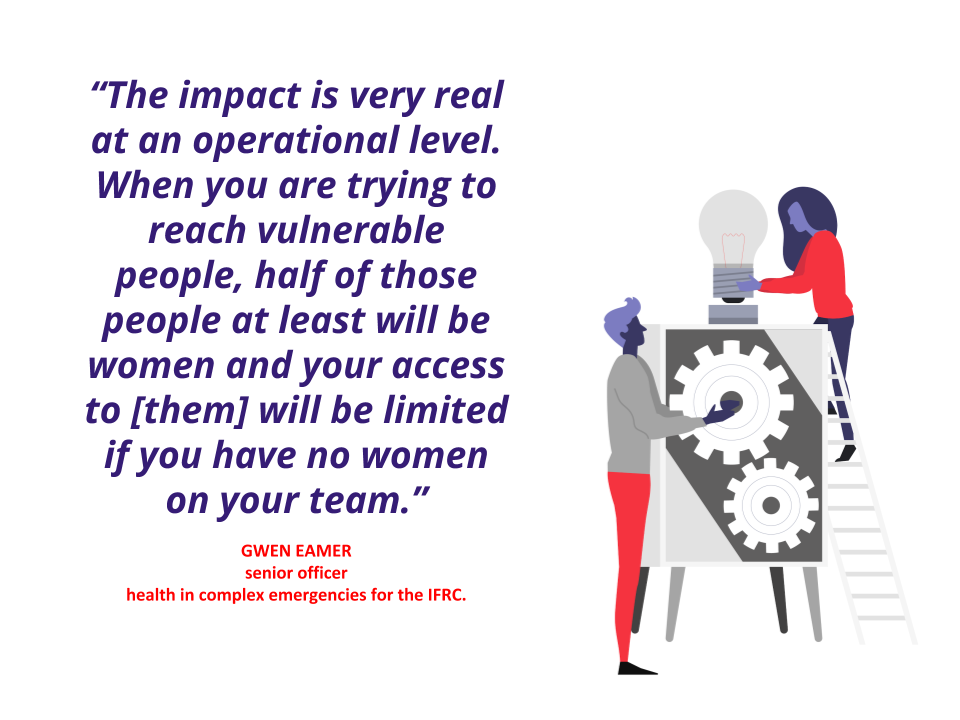 "When you look at the big peace negotiations and meetings, you find the people having that discussion are 80 per cent men," says Patricia Danzi, director of operations for ICRC in Africa. "But when you go into a refugee camp or [a camp for internally displaced people] you find 80 per cent are women. Very often, the majority of people who are affected by conflict are women and children. So if we don't have the staff to address their needs and find out what their needs are, then we really lose out.
"We also need to include more women, including from the affected communities, in how we discuss and design programmes, even simple questions such as where to put a clinic. A lot of times, they have ideas, but very often they are not so visible."
In addition, she says, being a woman negotiating humanitarian access in a male-dominated world of politicians, militaries and armed groups can be an advantage. "In my experience, when you are a woman from a faraway place, both fighters and authorities are impressed that a woman comes and risks her life," she says. "You have this additional leverage because you are a woman and maybe the discussion is less confrontational, less about the male ego."
Female representation can lead to some very concrete changes in the way work is carried out, adds Eamer. "For example, having no women in an operation might mean that you do not realize that there are no systems in place for female volunteers and those volunteers may end up quitting or being excluded," she notes.
That absence might then have a direct impact on the team's ability to enter a household to talk about hygiene or vaccination, or to get agreement for a safe and dignified burial. "Depending on the cultural context, you might have to be a woman to enter a domestic space. A man cannot enter another man's household when he is not there. So there are jobs that only a woman can do or that a woman's presence can facilitate."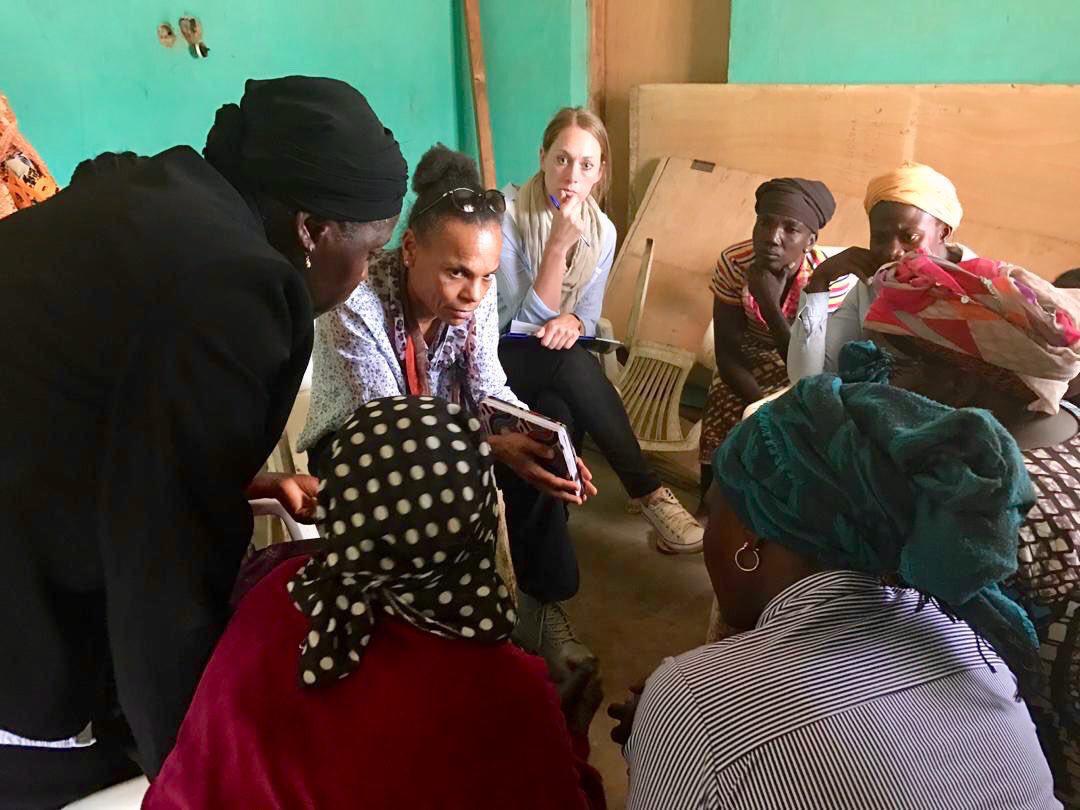 Impact within and without
Gender parity also impacts the quality of the response. Aishath Noora Mohamed, secretary general of the Maldivian Red Crescent, agrees. "A more varied representation means a more varied approach to solutions. As a woman, you will offer a different perspective," she says. "How we design a training programme, how we look at the timing of a training session — in the morning or at night — it matters in terms of who is participating."
Who attends those meetings might then determine what needs are addressed by humanitarians. "In the Maldives, if you bring in men to identify the challenges versus a group of women, the issues they select could be vastly different. A group of young men might see not having a football ground [as a problem], but if you bring women in they may say, 'Hey there are no street lights. We can't walk safely.' Or, 'We don't have a proper preschool'."
During emergencies, says Tiina Saarikoski, health advisor for the Finnish Red Cross (who has headed or managed several IFRC emergency operations), the ability to engage with women about issues such as protection or hygiene becomes critical.
"We are training people in gender issues and I'm sure females can look at needs of men and vice versa," she says. "But of if you're talking about issues of menstrual hygiene in emergencies, then a woman will have a different level of understanding than a man who has not experienced it himself."
In Saarikoski's experience, even small details can make a huge difference to women in places such as Cox's Bazar, where some 680,000 people fleeing violence in Myanmar are camped in crowded conditions with limited access to water and sanitation.
"Deciding what's inside the dignity kits [buckets that include items for maintaining hygiene and things like flashlights to get safely to public latrines] or even flagging that we need to have these dignity kits. This is what we had in our Bangladesh operations. It was so important to have females there being able to ask females, 'What do you need in these dignity kits?' 'What do you need generally?' It's the specificity that comes with being better understood."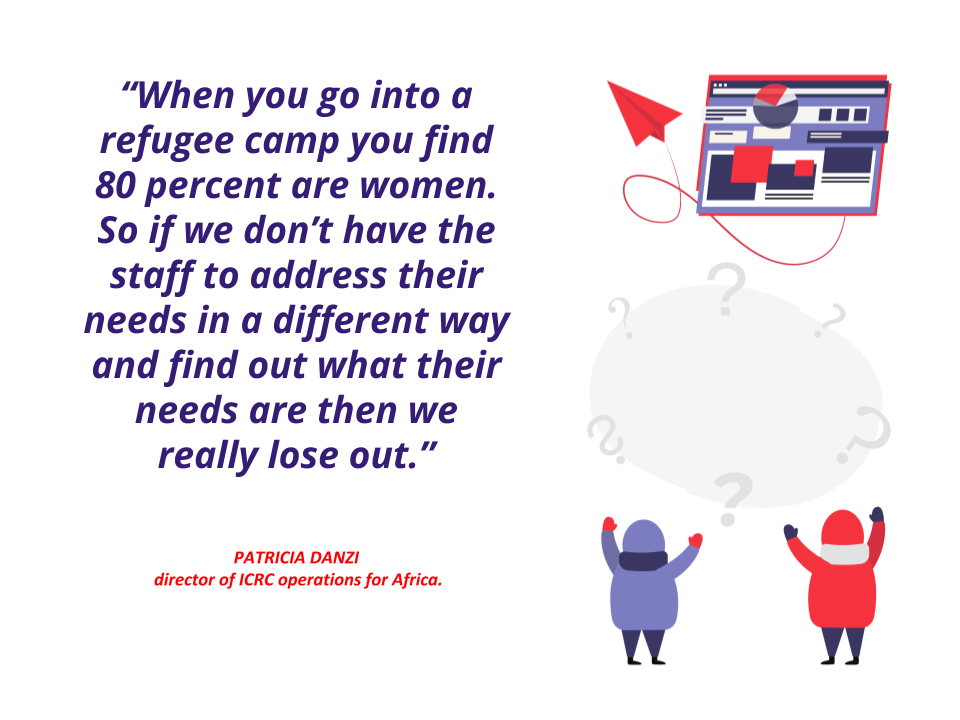 A difference in perspectives
A more inclusive workplace could also have a positive impact in terms of reducing the power imbalances that lead to sexual exploitation, assault and workplace bullying. This is not to say women are immune from engaging in harassment or bullying or from covering up such behaviour, as some scandals (including the infamous Oxfam scandal of 2018) have shown.
But the general consensus is that most sexual abuse scandals, largely perpetrated by men in positions of power, have been enabled by male-dominated work cultures. Because women are likely to be far more sensitive to these issues, having women in positions of authority would serve as an important check against abuses and cover-ups.
"There is a difference in perspective in how we look at things like gender-based violence or even workplace dynamics," notes the Maldivian Red Crescent's Noora Mohamed.
After the Oxfam scandal, in which the organization was accused of covering up an investigation into the hiring of sex workers by male staff working in Haiti, Devex (a media platform for the global development community) coined the term #AidToo. The hashtag was a signal that the sector needs to take ownership of these issues and be more proactive in addressing them.
In a November 2018 article for the Humanitarian Practices Network, Yves Daccord, the director general of the ICRC, wrote that, for his organization, addressing power and gender imbalances is critical to tackling the issue of sexual exploitation.
"Just as in the wider #MeToo movement, #AidToo reflects a deep-rooted, systemic problem that goes beyond sexual abuse and strikes at the heart of power imbalances in the aid sector: between men and women; between managers and staff; between international and local actors; and — crucially — between humanitarian workers and people caught up in crisis.
"We need to create an environment of integrity, respect and trust," he wrote. "We need a culture where people feel safe to speak out, and where allegations are taken seriously and accountability for perpetrators is assured."
Beyond that, having representation and diversity among staff is also an important step towards maintaining and building trust and credibility with the people humanitarians are hoping to help. In many ways, it comes back to whether humanitarians walk the walk; whether they live up to the Fundamental Principles they tout.
"At the Maldivian Red Crescent, we talk about inclusion in our programmes and services so I truly believe that we as a National Society have a bigger responsibility in our country to really prove and show our inclusivity by ensuring proper representation is there," says Noora Mohamed.
Red Cross Red Crescent will continue to explore questions of gender and diversity.
Subscribe here to ensure you get those stories in your inbox.
letter to get a regular roundup of stories from Red Cross and Red Crescent.
---
Back to Home