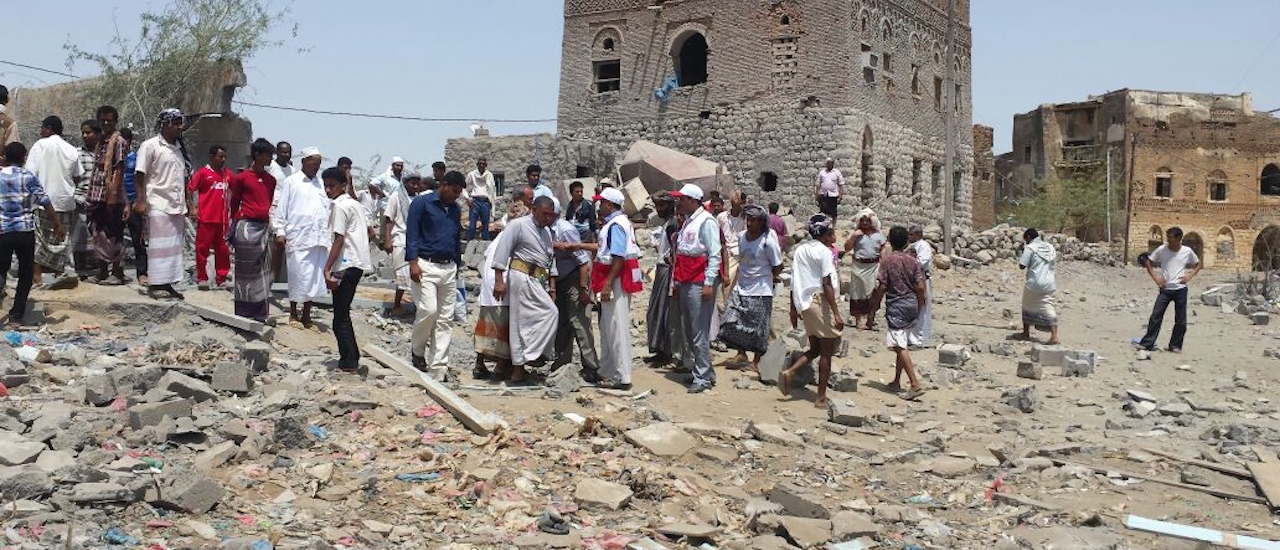 As conflict intensified in Yemen, and many aid agencies were forced to leave, locally based Movement workers have been the backbone of the humanitarian response. Here are some of their stories.
IN THE middle of the night, sounds of explosions reached my ear. Pretending it's a nightmare, I closed my eyes and thought, 'How many body bags are they going to need tomorrow? Given the sounds, it will be a lot.'"
These are some of the thoughts that crossed the mind of Fatimah Al Yamani one evening not long ago. "In the morning, acting like nothing has changed, I tried to fix my morning coffee only to remember that the electricity was cut weeks ago," continues Al Yamani, a protection field officer working in ICRC's Sana'a delegation. "All the electrical equipment in the kitchen is dead and just stares at me in silence.
"Walking alone in the empty streets, trying to reach the office, the once-jammed roads are just long, black, empty spaces. No fuel, no cars, no people. To make the journey shorter, I try to think of other sources of energy, something to bring life into all this silence around me."
This is just one scene in the daily life of current-day Yemen, a country that has been brought to the breaking point by months of intense fighting, air strikes, bombardment and economic sanctions. Moments of extreme silence are interrupted by gunfire and explosions. Simple daily tasks, from making coffee to finding food or getting across town to work, are often impossible due to the lack of security, power and fuel.
In this chaos, life for ordinary people grows more desperate by the day. As the death toll and the number of wounded rise, hospitals and clinics run low on vital medical supplies and equipment. Other essential commodities — water, food, fuel — are also in dangerously short supply in many parts of the country.
"Walking alone in the empty streets, trying to reach the office, the once- jammed roads are just long, black, empty spaces. No fuel, no cars, no people."
Fatimah Al Yamani, protection field officer in ICRC's Sana'a delegation
The only ones left
Movement staff and volunteers are left trying to find the means to bring life-saving aid. While most international organizations have pulled their staffs for security reasons, the ICRC has stayed, with 30 mobile staff and 190 Yemeni staff members based in offices in Sa'ada, Sana'a, Taiz and Aden.
Along with Yemen Red Crescent Society staff and volunteers, who have also suffered greatly due to the conflict, these humanitarians continue to work around the clock despite themselves going through much hardship: they may have been uprooted, or lost loved ones or all their personal belongings. The work is also extremely dangerous. To date, four Yemen Red Crescent volunteers have been killed in the line of duty. The most recent was Jameela Naji Burut, a volunteer in the Hajjah branch who was killed by an airstrike as she helped people wounded by another airstrike that had hit moments earlier.
Most of these volunteers and ICRC staff are working round the clock due to the demands imposed on them — even in cases when their movements are severely restricted because of the dangers.
Al Gomhoriah hospital is the main referral hospital for Aden and neighbouring governorates and the ICRC has been supporting it since fighting broke out. Ala Sahim, the health field officer for the Aden sub-delegation, has been living in the hospital 24 hours a day since 25 March to the time of writing. "I could not reach my home due to roadblocks, and I was afraid that I might not be able to return to the hospital — where I am needed — if I left," he says.
Aden was perhaps the most dangerous city in Yemen. In March this year, most of the mobile staff were forced to leave the city and the hospital was at one point evacuated as fighting took place in and around the hospital compound. "We are shocked by the lack of respect for the hospital, as a neutral health facility, by the fighting parties," said the ICRC's head of delegation at the time, Cedric Schweizer.
It was Sahim who led the evacuation and return of some 120 patients. "To be in charge of the hospital and its emergency response programme amid heavy fighting was a big challenge," he says, adding that with support from the subdelegation's head and its resident staff, they were able to face the difficulties. "I am very proud of our achievements in running the hospital where we were able to treat 800 war wounded in one month."
An ocean of needs
Reaching people trapped by fighting has also posed a serious challenge, says Basheer Jubran, an assistant at the Sa'ada subdelegation. "The fighting has turned the life of the people into one of total suffering," he says. "The ICRC tried its best to do something about this massive ocean of needs, especially in terms of health.
"But the roads were not safe and casualties were trapped in many places. Therefore we sent materials to the health structures so that they could respond on the spot."
At the same time, many staff members have also been directly affected, says Faris Beshari, an economic security officer. "Some of our colleagues in the north and the south have been affected personally by the ongoing airstrikes, as some have lost relatives and their homes," he says, adding that on occasion colleagues had to stop their daily work as they were displaced with their families and had to look for safe shelter.
"In general, access to the field is more complicated than before, but we are still able to deliver assistance to some affected areas," Beshari says. "I am very eager and motivated to work for victims of the ongoing fighting in spite of the difficulties and risks faced in the field."
By Malcolm Lucard and Adnan Hizam
Malcolm Lucard is editor of Red Cross Red Crescent magazine; Adnan Hizam is communication officer at the ICRC Sana'a subdelegation.