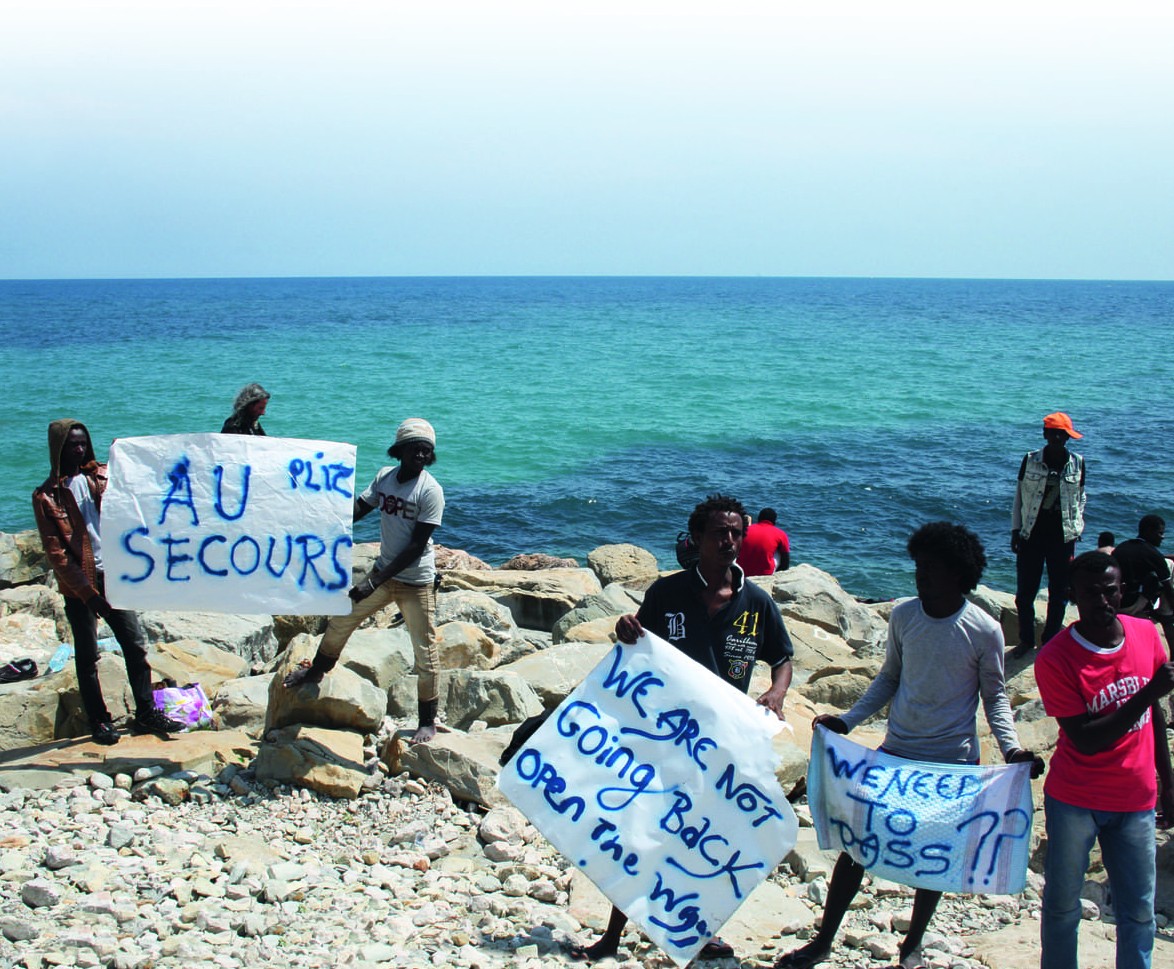 So close, yet so far
Along the Mediterranean coast near the border of Italy and France, people fleeing conflict, persecution and poverty live in limbo. A local branch of the Italian Red Cross rises to the challenge.
About 30 kilometres from the border with France, the Italian city of Ventimiglia is nestled on a narrow band of flat ground between steep, craggy cliffs and the Mediterranean coast.
The picturesque landscape is one reason thousands of tourists come here and to the Côte d'Azur just across the border to enjoy sunshine, beaches, amusement parks or go for a cruise in one of the many pleasure craft that dot the area's harbours and bays.
In this holiday paradise, however, another narrative has unfolded this past year. Throughout the summer, more than 4,500 people from places as far flung as Bangladesh, Eritrea, Ethiopia, Libya, Mali, Pakistan, Sudan, Syria and elsewhere have come through Ventimiglia, trying desperately to get across the border into France. With little prospect of work or legal residency in Italy, they hope France will bring them one step closer to a place to call home.
But their chances are slim. With no visas, and little more than the clothes on their backs, their only hope is to sneak across the border by train, walk along the train rails at night or trek by way of rocky, treacherous trails across the mountains that line the coast — all of which are patrolled by French border agents.
Mohamed Omer, a 25-year old from Sudan, managed to make it across the border to Nice, where he was arrested and spent four days in jail before being brought back to the Italian border.
"I will try again," says Omer, who arrived from Egypt in small boat with 500 people only one week earlier. "Again and again and again. As many times as it takes." Like many here, he doesn't have a precise destination. "Anywhere," he says. "Any job at all.
Anything I can do to support myself, to promote myself and help my people."
While the border area near Ventimiglia has long provided a route to France for migrants, things reached a crisis point this summer after the arrival of numerous large boats, packed with migrants, at various Italian ports. Hearing this border crossing was possible, many got the first train they could catch.
Once they got to the border, however, they were stopped by French border police. Before long, hundreds of migrants had gathered along the waterfront close to the border checkpoint. Meanwhile, another several hundred migrants had taken up temporary residence at Ventimiglia's main train station.
Red Cross volunteers from Ventimiglia and the coastal region of Liguria joined other local supporters who brought food, water and other supplies to migrants at the station and those camping near the border. Local authorities then asked the Red Cross branch in Ventimiglia to establish a shelter in a vacant building adjacent to the train station.
By late August, more than 4,300 migrants had stayed at the shelter — with more than 50 new people every night on average — and the Ventimiglia branch of the Italian Red Cross has served breakfast, lunch and dinner to roughly 200 people a day.
"The biggest challenge now is that winter is coming and we don't have a heating system in the shelter," says Paola Amato, the branch president. "It rains a lot in Liguria and it's cold and windy here in the winter."
By Malcolm Lucard
Malcolm Lucard is the editor of Red Cross Red Crescent magazine.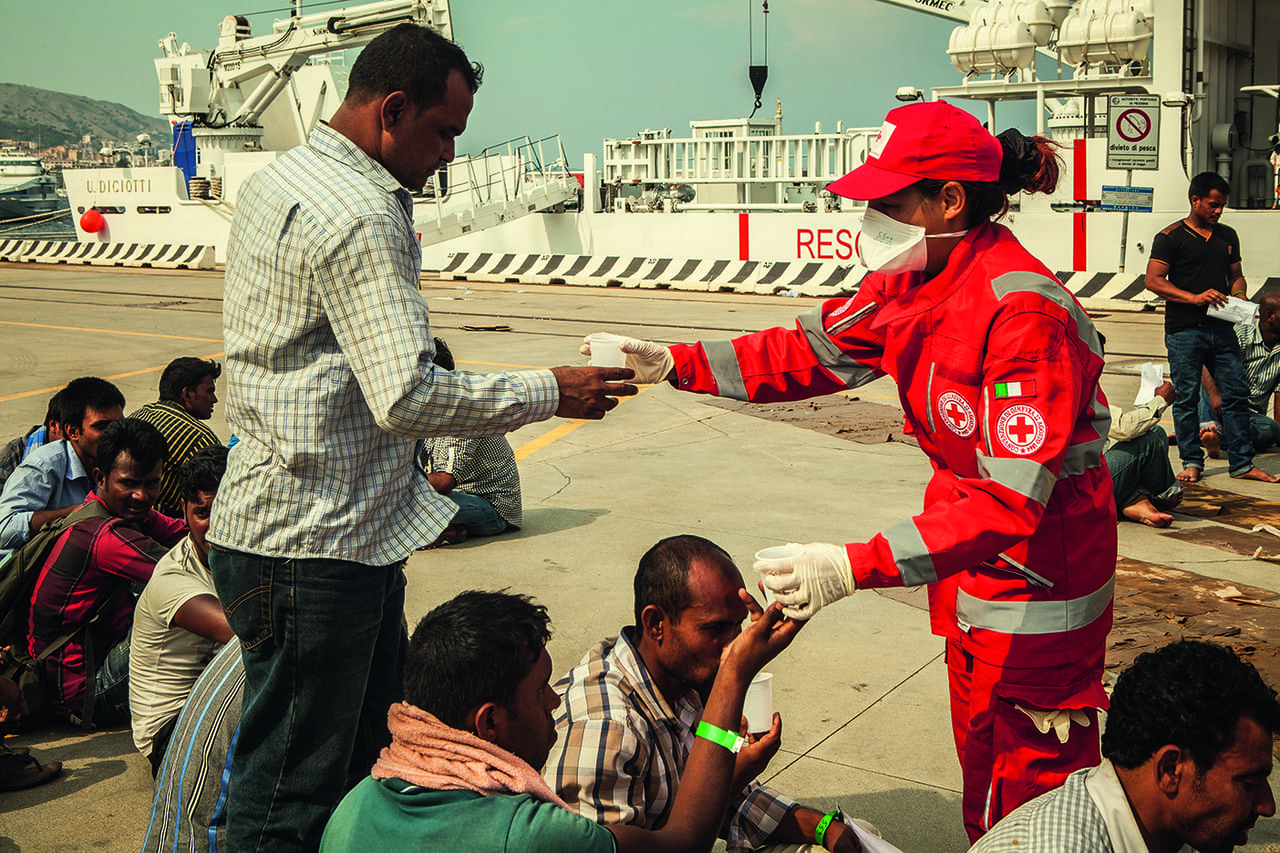 Red Cross volunteers and staff welcome more than 570 migrants as they leave an Italian coastguard ship in the port at Messina, Sicily, in July 2015. The volunteers offered the migrants food, water, health checks and psychological support, among other services.
Photo: Carlos Spottorno/Panos