The border of broken dreams
Sent back to Guatemala after being caught by police in Mexico, Guatemalan migrants arrive at the border with little more than the clothes they are wearing. The Guatemalan Red Cross works to make the return less painful.
At the immigration checkpoint in El Carmen, a small, sleepy town on the border between Guatemala and Mexico, a large tourist bus pulls up to the kerb. Judging by the colourful football t-shirts, brandishing the logos for Real Madrid and Barcelona, this could almost pass for a bus full of football fans on the way to watch a match.
Nothing could be further from the truth. The expressions on people's faces are sullen, weary, downcast, worn by failure and disappointment. The bus has been hired by the Mexican police to return Guatemalan migrants to their country of origin. The bus on this day has brought some 40 people to El Carmen, where the Guatemalan Red Cross has a migrant reception centre and where Erik Adalberto García, a staff member, greets them and tells them about the services offered.
"You can get something to eat and drink, get a bit of rest, obtain information on how to get home, make a free telephone call to your families and receive counselling from a psychologist," García tells them, standing in the aisle of the bus and handing out leaflets.
"Some of them do not even know where they are," he explains later, "and we have to show them where El Carmen is and how they can get back to their homes."
Between 30 and 40 people arrive here every day, the majority of them adult men, between 18 and 40 years old, although often there are also women and children.
While much media and political attention is placed on what happens at the border of Mexico and the United States, people around the world hear less about the plight of those at places such as El Carmen, roughly 1,000 kilometres to the south.
"I had been travelling for four days when I was stopped by the Mexican police in Tabasco," says Wilmer, a 30-year-old electrician who had already succeeded once in getting into the United States.
At the Guatemalan Red Cross post, Wilmer was given water, food, information about the route he has to follow to get home safely and the use of a telephone to call home.
"I was able to talk to my mother," he says. "She was very moved because she had been very worried about me all these days. She was crying but I told her I will be there soon, today or tomorrow at the latest."
Wilmer's tale is just one of the many sad stories one hears at the migrant reception centre, says the centre's psychologist Carlily Aguilar. "When the Mexican police stop them, they spend several days in Mexican jails until they arrive here, which is the main arrival point for deported migrants," Aguilar says. The most common problems among the migrants on their long journey, she explains, are the psychosocial aftereffects of their ordeal and malnutrition.
In some cases they have also been victims of physical aggression or even sexual abuse. In these cases, they are often very afraid and ashamed to talk, especially men, and so she is there to offer psychological support.
The services available in El Carmen are just one element of the Guatemalan Red Cross's migrant project, implemented in 2012 in four districts in San Marcos department, bordering the Mexican state of Chiapas.
The project also includes hygiene services such as showers, medical care at local clinics at points where migrants often pass, ambulance services when needed, psychosocial support and other programmes focused on helping returning migrants get back on their feet when they return to their cities or towns of origin.
By Manuel Ruiz Rico
Manuel Ruiz Rico is a freelance journalist based in Brussels, Belgium.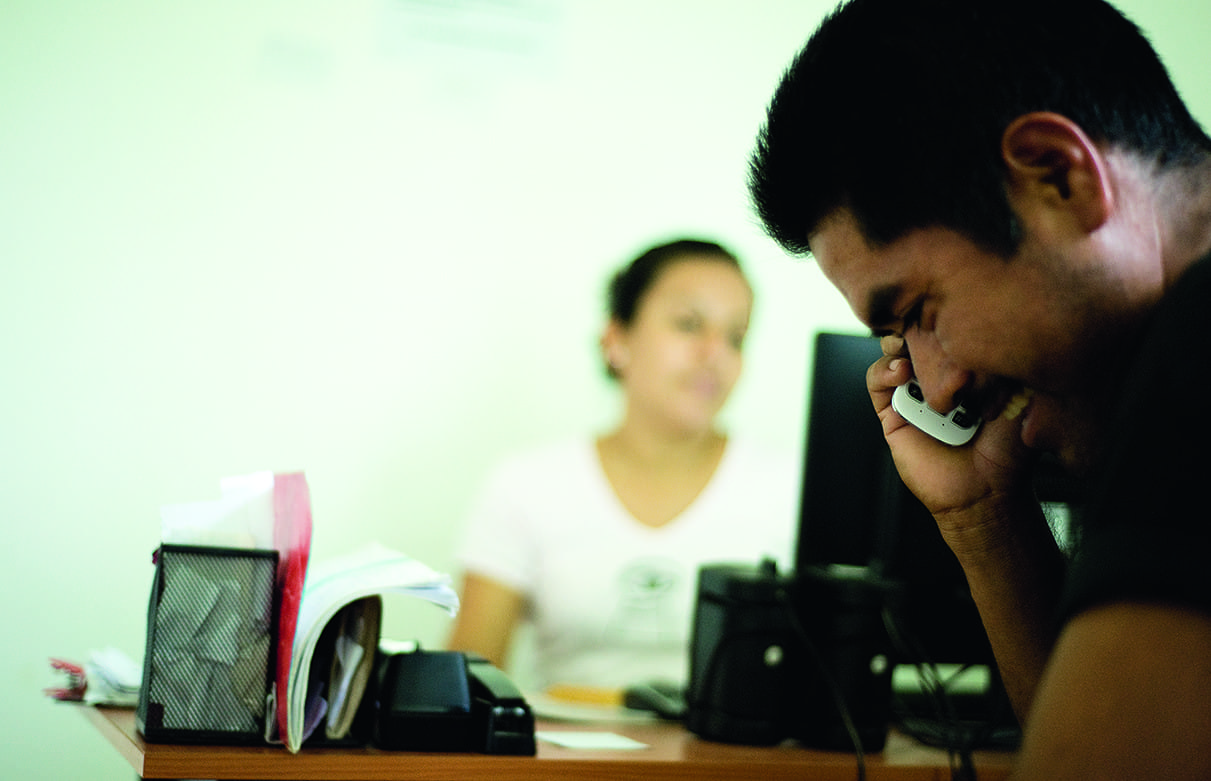 "I was able to talk to my mother. She was very moved because she had been very worried about me all these days. She was crying on the phone and I told her I will be there soon, today or tomorrow at the latest."
Wilmer, a 30-year-old electrician, who was sent back to Guatemala from Mexico after trying to reach the United States.
The migrants have often lost a lot of money as well. "It is a very expensive and very dangerous journey, and they are often cheated," explains Héctor López, head of the Guatemalan Red Cross migration programme.
"If they go on their own, they have to pay for all the bus and train tickets before they reach the capital and then to the United States border," he says. "If they go with the fixer, they have to pay him several hundred dollars and it is even said that there are fixers who, for US$ 5,000, will ensure you reach the United States. These figures have turned migration into a highly lucrative business."
Criminal gangs also pursue migrants to rob them and even kidnap them in order to demand ransoms that families find very difficult to pay, García points out.
Aguilar says one Guatemalan migrant told her how gang members threw a Honduran migrant out of the train to Mexico City after demanding a high price for continuing the journey. The migrant died brutally, run over by the carriages. "She looked horrified when she told me," Aguilar recalls. "She said that after she had seen that, she would not try again to reach the United States."
Aguilar is also the psychologist at the Casa del Migrante, a centre for migrants in the town of Ayutla, some 32 kilometres south of El Carmen. The centre is part of the Catholic Church's pastoral care of human mobility project, which works in coordination with the Guatemalan Red Cross migration programme.
Separated from Mexico by the River Suchiate, Ayutla sees a constant flow of traders in all kinds of goods and, to a lesser extent, migrants. They cross over to Mexico in boats made of truck tyres and wood. Their owners charge 10 quetzals (US$ 1.5) to take them to the other side.
Some 300 metres from the river is the Casa del Migrante, which opened in 2011. As in El Carmen, most of those who come are returning to Guatemala. "Migrants can stay there for up to three days to recuperate before going back to their homes," explains Aguilar. In many cases, they also receive medical attention at the Guatemalan Red Cross clinic in Ayutla, which opened in 2012.
For many who visit the centres in Ayutla and El Carmen, these small gestures of help ease their despair. Sipping a glass of water at the El Carmen migrant centre, 22-year-old Auri says he was caught while travelling with his brother towards Cancún, where they have cousins who emigrated a few years ago and are doing well. "We did not make it and now we have lost everything, the 1,200 pesos [about US$ 200] that it cost each of us to reach Cancún," he says with a sigh.
This post is also available in: Français Español
Back to Home