VIDEO STORY | COVID-19
'Nobody sees us,
but we are there.'
Teams of online volunteers use laptops and a whole lot of passion to support the aid workers and communities facing the Covid-19 pandemic, natural disasters and other tough humanitarian problems.
---
April 2020 |
Reporting:
Malcolm Lucard
Production:
Irina Ruano
In the northern Italian city of Modena, Italian Red Cross volunteer Chiara Gorni works is at the forefront of the fight against Covid-19. But you won't only see her in an ambulance or in a hospital.
Like most people in northern Italy, Gorni is in lockdown. So she works from her home, near the epicenter of Italy's Covid-19 crisis.
Every morning, after feeding her two infant daughters, she reports to work: a desk just a few meters from the table where she changes her daughters' diapers.
An experienced emergency responder and trainer, she is one of 30 online volunteers for the Italian Red Cross who turn up-to-the minute field data into usable reports for decision making, produce real-time maps that track rapidly evolving needs and translate late-breaking health messages — among many other tasks.
"We are translating important documents such as the new health protocols that are shared with the public and that are evolving with the emergency daily," she says.
Her most challenging Covid-related task? "Looking for as much personal protection equipment as we can find," says Gorni, who must scour the internet, make dozens of calls, compare prices and try to judge the reliability of products on which her colleagues' lives will depend. "It has become very difficult," says Gorni, who has been a first-responder to all manner of emergencies, from earthquakes to floods. "This is one of hardest things I have ever done. But I'm very thankful for all the support and information sharing I have with colleagues during this emergency."
Online volunteering has grown rapidly in recent years and the emergence of Covid-19 is accelerating the trend. With more people working from home, under lockdown or quarantine, these unsung digital humanitarians are playing an even bigger role.
Even if they don't see us, we are there and we are able to be anywhere where it's needed.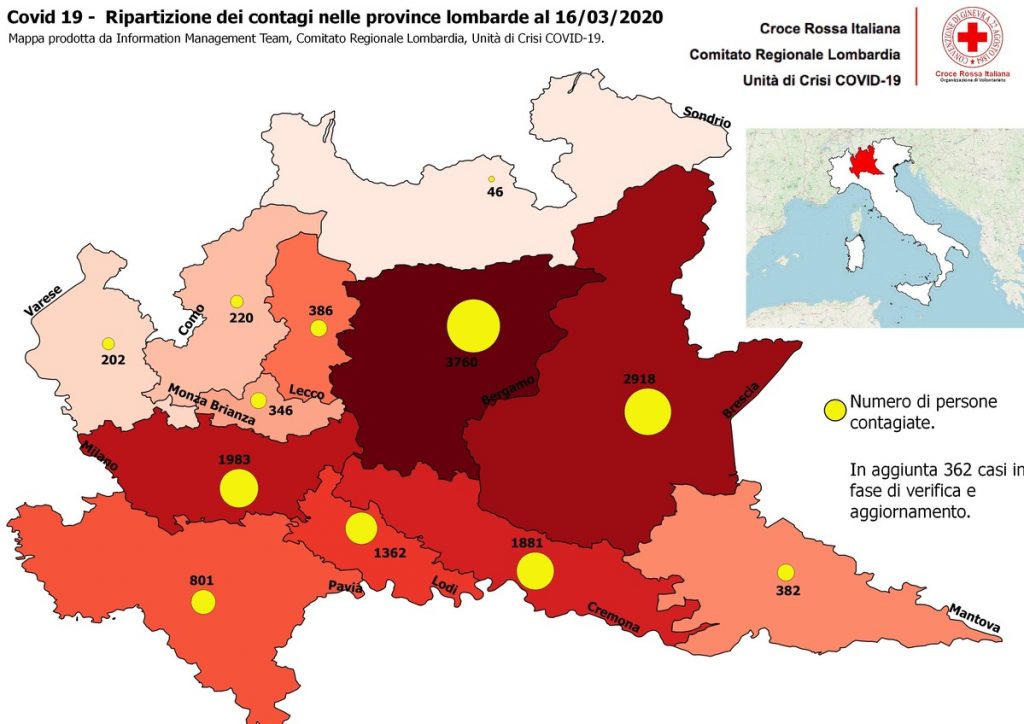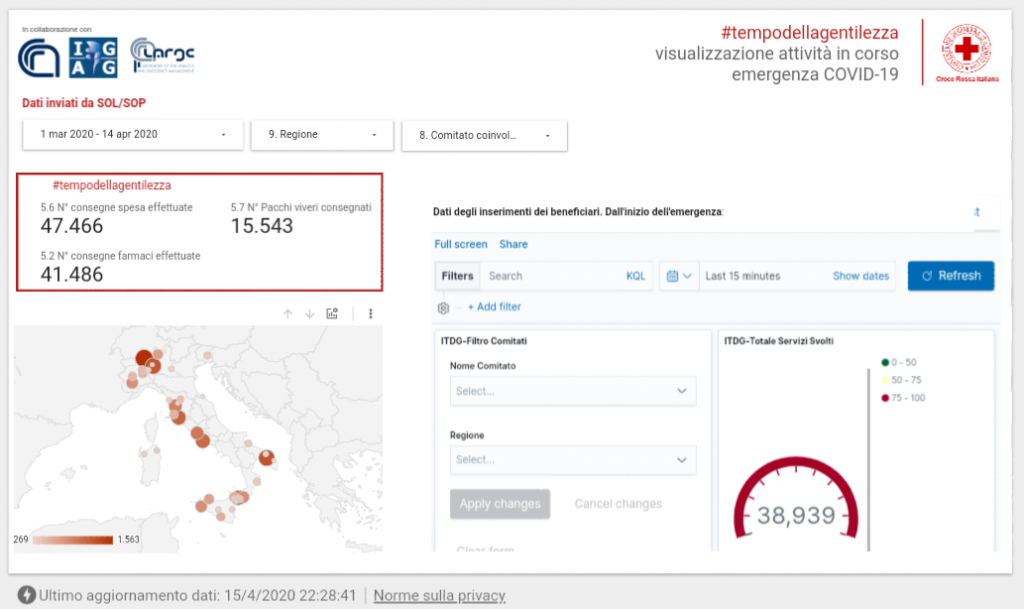 At the Netherlands Red Cross, online volunteers are also supporting the response to the pandemic. But online volunteering here is nothing new. The Netherlands Red Cross has been a pioneer in terms of weaving online volunteers into the fabric of both emergency operations and longer-term project development.
In a small apartment in Amsterdam, Gulfaraz is working on a project that uses artificial intelligence and images taken from satellites to make predictions about the damage caused by tropical storms. The goal is to help rescue workers and aid groups respond more quickly and effectively to natural disasters.
"Mostly I work from here," says Gulfaraz, referring to a small desk in the corner of his flat where his open laptop computer is perched, ready for action. Before Covid-19 changed many aspects of public life, his workplace might be a café, a friend's house, a library, a university building, or a coach on one of the inner-city trains. "Everything is on my laptop so it's pretty convenient for me to work anywhere."
With a Master of Science degree in artificial intelligence (or AI) from the University of Amsterdam, Gulfaraz makes a living as a consultant. His work as a volunteer is part of a Netherlands Red Cross initiative known as 510, a data and innovation hub which offers a new 21st Century model for how people can lend a helping hand and even save lives in communities on the other side of the planet.
I want this system to be used by disaster response teams all over the world because I think it could have a major impact on the people they are trying to save.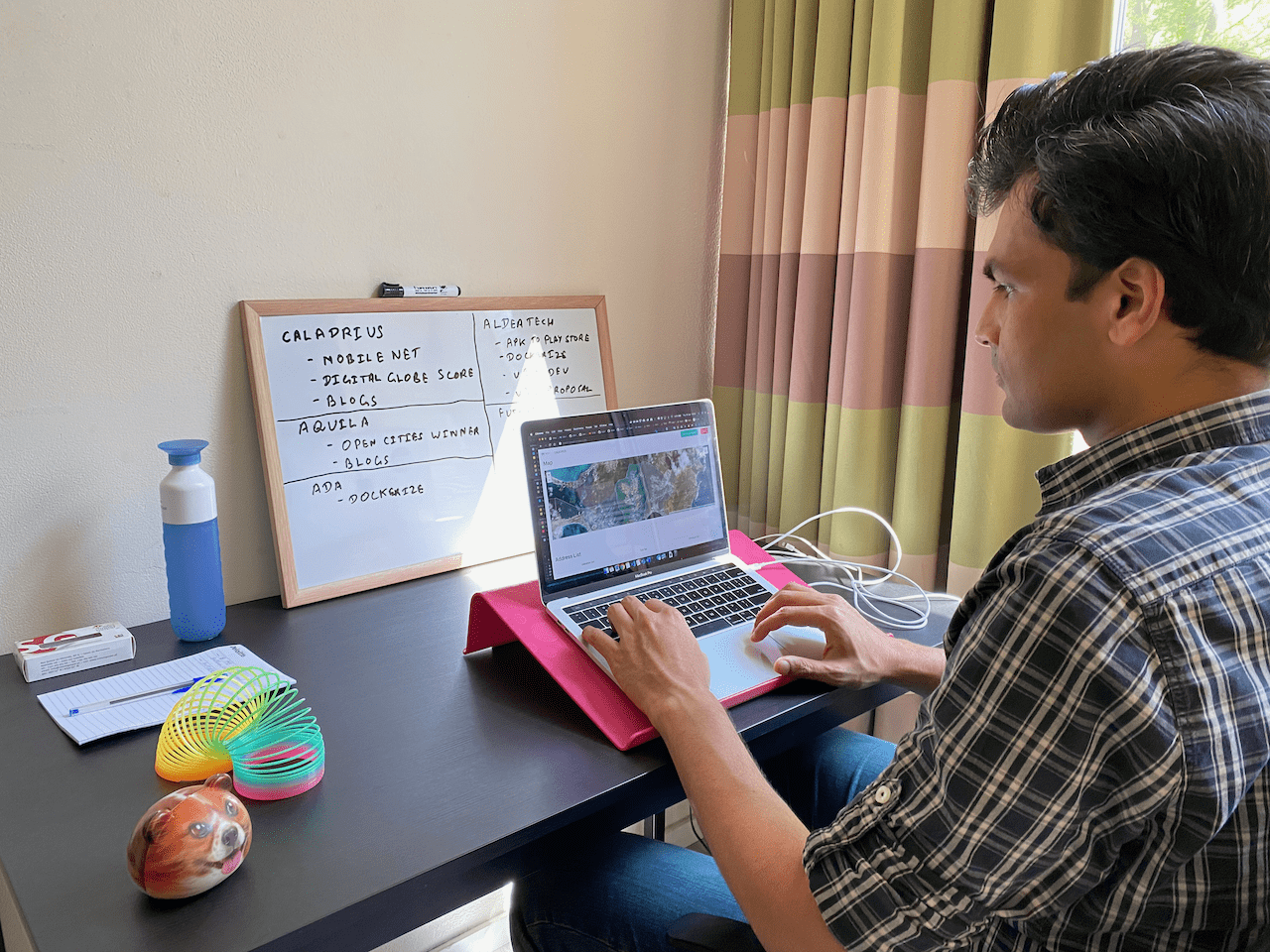 For the Netherlands Red Cross, this approach means they gain from the passions and expertise of highly motivated people, who are then able to give the best of their talents and their time.
The online volunteers are an integral part of the 510 initiative, which seeks to improve the speed, quality and cost-effectiveness of humanitarian aid by putting data in the hands of aid workers, decision-makers and people affected by disasters and crises.
The volunteers also often visit the Netherlands Red Cross office to work and meet with colleagues. But offering an online option also makes volunteering more accessible to more people.
Clearly, there are advantages to online working. The commute? Only as far away as your laptop, desktop or mobile device. Already online? The commute is only a few keystrokes away. Office dress code? Say what?
For Lone, a Master of Science student in physical geography in Lund, Sweden, working from home for the Netherlands Red Cross means she's never far from her guitar or her two cats. But the real advantage is timing.
"I'm able to set my own schedule," she says. "I'm taking a course right now and I can plan my volunteer work around the course and the lectures. That's nice because there are a lot of volunteer positions where you're expected to be somewhere for certain specific hours. So, in my case, I can do my work and still complete my thesis in time."
When not strumming her guitar or doing volunteer work, Lone is writing her Master's thesis on a system that uses satellite imagery to predict riverine floods and help prepare communities in the southern African nation of Malawi. "I am working towards something meaningful while also combining my passions for geography and communication," she says.
For Chiara Gorni, becoming an online volunteer for the Italian Red Cross coincided with the birth of her two daughters. "It wasn't a great moment to be working from home but at the same time it was a perfect moment because I could not do anything else but stay home with them. And still I could help by doing online volunteering."
"The great part is that you are at home. You can do in your uniform, or in your pyjamas. But the great part is that even if they don't see us, we are there and we are able to be anywhere where it's needed."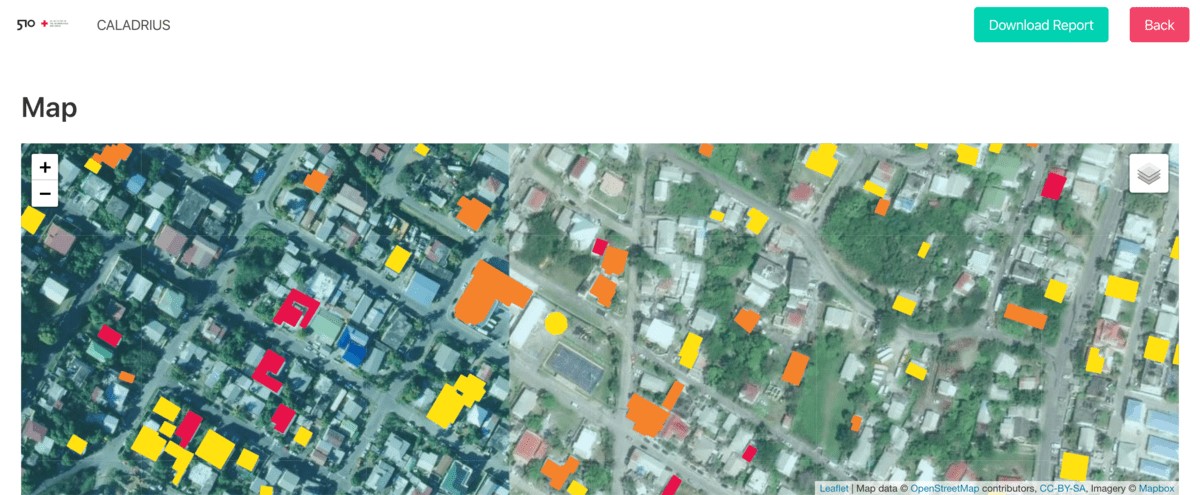 Passion and responsibility
With many traditional volunteering models, volunteers are trained in very specific tasks in order to carry out a set of pre-defined responsibilities and roles (first aid is one of the most common examples).
These forms of volunteering are critically important as many services can only be offered in person. Now, National Red Cross and Red Crescent Societies around the world are offering more flexible volunteering models, allowing the organizations to take on projects that would not otherwise be possible.
While online volunteering is not new, it has come a long way since one of the most well-known examples sprung up roughly a decade ago. That's when digital activists around the world pitched in to help human rights activists in Kenya map out election related violence in 2009.
Since then, volunteer-based or "crowd-sourced" digital mapping projects have become a staple of humanitarian preparedness and response efforts. Such maps were used to help people respond to the 2010 earthquake in Haiti, the ongoing conflicts in Syria and Libya, and in the response to recent storms in eastern Africa, among many other examples.
Online volunteering has also gone far beyond digital mapping. The Malawi Red Cross, for example, is building up a grassroots data team that mobilizes local volunteers to collect data directly from communities using cellphones and portable computers. Working with online volunteers in Malawi and the Netherlands, they crunch the data in order to better understand and respond to peoples' health needs, or to the impacts of climate related events such as droughts or floods.
Another big change is the degree to which online volunteers are becoming fully integrated into larger, long-term organizational project development.
"Normally, to take on large, software- or data-driven solutions, smaller NGOs have to outsource to a private company," notes Maarten van der Veen, the founder and strategic lead of the 510 initiative. "This is a perfectly reasonable approach. But we started to think it was better for the Red Cross to increase our own capacity."
"Instead of outsourcing, we wanted to start 'insourcing' by building that capacity in the team — the staff, volunteers and students — and to get them involved in the development of human-centered solutions. It's not just a set of one-off projects with an external provider. It's something we really own."
Online volunteering is also being deliberately tested and developed as part of larger strategy for expanding volunteering opportunities around the world. As examples, both the Italian Covid-19 response, and aspects of the Netherlands Red Cross online volunteering model get support from the EU Aid Volunteers initiative of the European Union.
The work these teams do, meanwhile, is both satisfying and professionally very challenging. So it also attracts people with considerable experience in both the humanitarian sphere and in the private sector.
Arjen Crince has decades of experience supporting information management projects, digital mapping and mobile data collection. He spends much of his volunteer hours in front of his computer at home in the city of Utrecht. But he has also worked with teams in Malawi, Kenya and in the Caribbean island of Sint Maarten. And he's also been an integral part of wider, long-term information management solutions for the International Federation of Red Cross and Red Crescent Societies, based in Geneva, Switzerland, among other missions.
Crince is not only passionate about the way data is used, but also how it is gathered. He wants to help the Red Cross and Red Crescent humanitarian network adopt higher and more uniform standards for data collection, so that assessments, analysis and responses are more consistent. "I like to help people make good, data-driven decisions and come up with pragmatic answers in order to bring a project or an organization a step forward," he says.
Can remote volunteers ever be as important to solving problems as those who are supporting communities in person? For these online volunteers, the point has never been to replace other forms of volunteering. The idea is to provide backup to volunteers doing the field work: supporting them by aggregating and analyzing data, helping them track a disease, or plan the best community recovery strategy. "Data is the new gold," he says, "and I'm passionate about helping people use it effectively".
---
This post is also available in: Français Español العربية
Back to Home